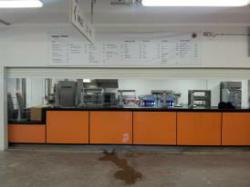 Offer a full turnkey, one-stop service including furniture, flooring, wall cladding, fire suppression as well as having access to over 15000 items of every conceivable sundry and catering equipment.
London, United Kingdom, (PRWEB UK) 21 December 2012
Since its inception in 1983 as a privately owned business, Garners Food Service Equipment has become a renowned name in the United Kingdom. Today, they have earned an enviable position as a professional commercial kitchen design house in the country. Having a business with years of experience, Garners Food Service Equipment is known for offering quality food service solution on budget and time.
Garners Food Service Equipment is known for their premium quality of commercial catering facility. Presently, they have both private and public sector customers with whom they are maintaining sustainably cordial relationships year after year. With intense professional practices and dedicated services for years now, they have gained an extensive reputation.
What's our specialties
Needless to say that Garners' journey so far was never so easy. They have focused on key areas of their business to acquire this place in the competitive UK market in recent times. Their specialty includes:
A supporting team with well coordinated management procedures. It helps them to approach the clients and supply chain partners with positive attitude. With their consistency and quality of services, they assure the clients that their business is in the hands of professionally expedited organization. What's more! The superior after sales services by them is also a sole contributor to their services.
The comprehensive design solutions offered by them is famous countrywide. They are always at your service right from the beginning of your designs stages till the finishing. The post project services offered by them are worth mention.
Garners Food Service Equipment offers Supply Chain clients with a wide range of services under a single roof. They offer wall cladding,, furniture, flooring, fire suppression and over 15000 items related to the catering equipment. Moreover, they focus on British manufacturing process for all the projects they handle.
However, mention should be made of Tim Fisher, who has over 30 years of experience in this trade. In fact, the majority of Garners' success story is written by him. He owned this company from the original founders John and Rosie Garner in 2009. Right from that time, he is steering its wheel in order to drive it in a profitable path. Despite facing a number of troubles and hurdles galore in his way, he has built the reputation in the market of united kingdom. Tim plays a very hands-on role in this company and is has contributed towards all the Retirement Village and sports stadia projects. Since then, Garners Food Service Equipment has become the trusted commercial kitchen or facility specialist in the country.
Apart from Tim Fisher, mention should also be made of Peter Walker. He is the Marketing executive, who has taken care of the online marketing initiatives of the company including company's tweets, maintaining website blogs and anything else related to the marketing of the organization.
No matter, it's a high street cafe, restaurant, bistro or a central production unit, within a large corporation or a sports stadia, we Garners Food Service Equipment have managed to build up their enviable reputation in the market. They are known widely for delivering superior quality of services s promised, irrespective of the budget or complexities of that project. Moreover, the ability to deliver services within the quickest turnaround time is the key to their success. Once they are into partnership, they can be a proactive member of your design team right from the initial stages and will offer you customised commercial kitchen equipment and front-of-house designs. Their speciality also includes the 3D visuals and walk-through so that clients can see that how the entire project will look like once finished.
For any queries, clients can contact Peter in Marketing. He is in charge to gain the basic brief from them and disseminate the responsibility to the three sales managers. They will personally visit your site to discuss on the further details regarding their services. You can get in touch with them at the following address:
Garners Catering Equipment t/a Garners Food Service Equipment
Address of the business: 28-32 Hall Street
Business email id : marketing(at)garnersmail(dot)co(dot)uk
Valid phone number : 0115 960 96 90
Website for press release : http://www.garnersfoodserviceequipment.co.uk/