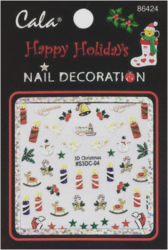 We've seen a really significant growth in demand for the range of Nail Art decals, particularly in the last season
(PRWEB) December 23, 2012
More consumers are buying Nail Art products than ever before, reported eNail Supply, the online retailer. And the positive trend is set to continue well into the future. The company forecasts continued growth in the sales of their range of kits, pens, stickers, polishes and nail decals.
eNail Supply said sales of their most popular brand of nail decals and nail beauty products – has grown over the last few years, with sales growing dramatically in the last year.
Sudeep Arya, CEO of eNail Supply said: "We've seen a really significant growth in demand for the range of Nail Art decals, particularly in the last season. Whilst business across the board has been very good, we noticed a particular peak in sales of this line and have been watching its progress ever since. We estimate sales of these products will continue to grow over the coming months."
eNail Supply is an online store catering to professionals and the public, supplying them with quality beauty products for hands, feet and nails. The company report that business has never been better and the popularity of their products, especially amongst professional beauty therapists, is growing fast. This bodes well for a stable financial future in the coming year.
"The online store offers the entire range of Nail Art decals, Nail Art stickers and Nail Art pens two sided. We have everything in stock that our customers need to be as artistic as they please and create nails that are a work of art," Mr Arya went on to say. "If our customers are happy, we are happy. The company ensures this by keeping up to date with new nail decals and making them available to customers as soon as they are on the market. Our customers appreciate the care we take to give them the best products at excellent value prices."
Professionals in supplying beauty essentials to professionals and the public, eNail Supply don't mind investing time and money in ensuring their product range is of the highest quality. They say they are proud that customers can enjoy the best brands without having to pay the highest prices. The range of Nail Art stickers, Nail Art pens two sided and Nail Art decals available in the online store are a specific example of this.
This month, eNail Supply are enjoying growing sales for their reasonably priced sets, especially the holiday themed packs which are the best sellers.
The company had to order in extra supplies of their Cinapro Year of Celebrations Nail Art Stickers pack, demand was so high. Their sales team say customers find these packs perfect for the holidays and report their delight in the product, citing the high quality, flexible rubber decal and strong hospital grade adhesive as the reason for it being their first choice. The sales team have been inundated with requests for the full range of products in online, including their Nail Art pens two sided range.
The healthy growth in sales is set to continue into the New Year. Management at eNail Supply are now looking forward to offering the 2013 range and to Nail Art's continued popularity amongst customers.
About Us:
eNail Supply supplies professional and salon-quality beauty products for the hands, feet and nails. It stocks a huge rand of brands including Essie Nail Polish, Nail Art, Artistic Color Gloss and Gelish for shipping worldwide. eNail Supply supplies to licensed nail technician, aesthetician, depilatory professionals and beauty consultants as well as regular shoppers. It offers worldwide delivery and complimentary help and advice from a team of qualified technicians.