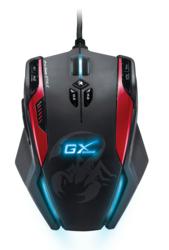 San Jose, California and Taipei, Taiwan (PRWEB) December 20, 2012
NXP Semiconductors (NASDAQ: NXPI) today announced that Genius, a leading computer peripherals and consumer electronics brand, has selected an LPC microcontroller for its latest GX Gaming mouse. Genius is now using the LPC11U14 microcontroller in Gila – its new professional gaming laser mouse for MMORPG (massively multiplayer online role-playing games) and RTS (real-time strategy) games – which enables ultra-fast response times in combat. Gila has been named an International CES Innovations 2013 Design and Engineering Awards Honoree, and will be featured in the KYE Systems Corp. (Genius) booth at CES (LVCC South Hall 4, #35269).
"Gila is taking the pro gaming universe by storm, with rave reviews for its superb hand grip, its twelve-button design, and its customizability to conquer any gaming challenge," said Sam Liou, President, KYE/Genius. "NXP LPC11U14 helps Gila mouse deliver a significant performance advantage for gaming fanatics, enabling a lightning-fast response time of just 1 millisecond – 8 times quicker than typical gaming mice."
The LPC11U14 microcontroller is based on a 32-bit ARM® Cortex™-M0 processor operating at 50 MHz, and features an integrated Full Speed USB 2.0 device controller. The Gila professional gaming laser mouse for MMO/RTS takes advantage of the performance and peripherals of the LPC11U14 – including up to 32 KB of embedded flash memory, 6 KB of SRAM, 36 GPIOs, 4 timers and a 10-bit ADC – offering up to 72 keys for user-defined macros, while also preventing game block. The NXP microcontroller communicates with Gila's laser sensor via an SPI interface, helping gamers to quickly shift between 200 and 8200 dpi for ease of movement on the battlefield. Using the microcontroller's PWM output, Gila also enables gamers to customize color settings, supporting up to 16 million LED backlight colors in 3 areas.
"The most legendary professional gamers leave as little as possible to chance – including the performance of computer hardware peripherals, which can help to make or break a game. We're thrilled that Genius has selected the highly cost-effective LPC11U14 USB microcontroller for Gila – a sleek gaming mouse that gives pro gamers control over every nuance of MMO/RTS combat," said Owen Jin, marketing director, microcontrollers and application marketing for NXP Semiconductors in Greater China. "We have enjoyed working with Genius and with WPG/WPI, which provided valuable software support for this award-winning product, and look forward to supporting additional GX Gaming peripherals in the future."
NXP will showcase a wide range of gaming solutions at 2013 International CES in Las Vegas in Central Plaza 8 (booth CP8) from January 8 to 11, 2013.
Links

About Genius
Genius is a leading international brand in computer peripherals. Established by KYE Systems Corp. in 1983, Genius offers PC products including computer mice, keyboards, web and security cameras, speakers, gaming peripherals, remote controls, headphones, digital cameras, digital camcorders and digital photo frames. The Genius consumer electronics range includes mobile phone accessories, Bluetooth headsets and portable speakers. For six consecutive years, beginning in 2005, Genius was recognized as one of Taiwan's Top 20 Global Brands. For more information, you can visit the Genius website at http://www.geniusnet.com. Also, you can view the Genius company profile on YouTube at http://www.youtube.com/watch?v=xyaWkIDodxI.
About NXP Semiconductors
NXP Semiconductors N.V. (NASDAQ: NXPI) provides High Performance Mixed Signal and Standard Product solutions that leverage its leading RF, Analog, Power Management, Interface, Security and Digital Processing expertise. These innovations are used in a wide range of automotive, identification, wireless infrastructure, lighting, industrial, mobile, consumer and computing applications. A global semiconductor company with operations in more than 25 countries, NXP posted revenue of $4.2 billion in 2011. Additional information can be found by visiting http://www.nxp.com.
Forward-looking Statements
This document includes forward-looking statements which include statements regarding NXP's business strategy, financial condition, results of operations and market data, as well as other statements that are not historical facts. By their nature, forward-looking statements are subject to numerous factors, risks and uncertainties that could cause actual outcomes and results to be materially different from those projected. Readers are cautioned not to place undue reliance on these forward-looking statements. Except for any ongoing obligation to disclose material information as required by the United States federal securities laws, NXP does not have any intention or obligation to publicly update or revise any forward-looking statements after NXP distributes this document, whether to reflect any future events or circumstances or otherwise. For a discussion of potential risks and uncertainties, please refer to the risk factors listed in NXP's SEC filings. Copies of NXP's SEC filings are available from the SEC website, http://www.sec.gov.