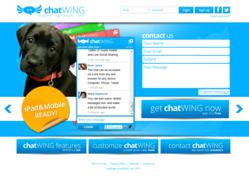 Los Angeles, CA (PRWEB) December 20, 2012
Chatwing Development Team has stepped up in the business arena by offering a global chat widget for websites in the field of venture capitalism. The Chatwing team has recently noticed that many entrepreneurs are looking for financial assistance, yet only few of them can accomplish that feat. With the help of the Chatwing chat tool, entrepreneurs can now reach venture capitalists and vice versa.
Chatwing's shout box is a small chatroom that can accommodate up to 6000 users simultaneously. These users can communicate directly, and they can even use their social media accounts as login options. To install the Chatwing app to any website, the user just needs to register his website's domain name, along with email address. After registration, the user can now go to the dashboard and edit the appearance of the widget.
Venture capitalism website owners can use the Chatwing chatbox to handle the visitors' concerns. Instead of waiting for website entries, the visitors can get responses in the shoutbox immediately. This saves valuable time on both sides. Venture capitalists can even share their tips and updates in the Chatwing shoutbox. The effect is mutual: the websites will gain high visibility, and the visitors will gain useful information.
The advent of venture capitalism has helped many entrepreneurs turn their ideas into 'cash cows.' To further support this field, the Chatwing team will continue to make new improvements to the chatbox. In this way, more people can now communicate indefinitely and website owners can also gain the online presence they need.
About Chatwing.com
Chatwing.com specializes in the new field of website chat. Over years, the Chatwing team has introduced live chat widget for hundreds and thousands of blogs. The Chatwing application bridges people from many parts of the world, creating global synergy through the Internet. The shout box can be installed in just seconds, and it can be used for varying purposes such as leisure and Internet marketing. It also allows a user to customize the size, color, and name of the widget.