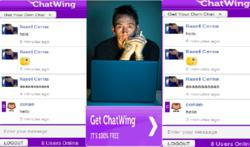 Cambridge, MA (PRWEB) December 20, 2012
Chatwing has just launched a simple chat widget that can help product review sites attract more visitors. The Chatwing tool is known for its efficiency in initiating global chat between groups of people. Additionally, the Chatwing tool also has wide customization options to give a creative edge to any user.
In the latest Chatwing chat box, the developers have worked on a massive customization overhaul. Users can now change widget colors independently, and they can easily scale the size according to their preferences. The Chatwing team has also added a background image upload option to make the chatroom more exciting and entertaining. Product review sites can use this feature to highlight a certain product that has attained certain popularity. Once visitors talk about the product, the website will gain high online presence.
Chatwing's shout box also allows a full conversation control to any admin. Whenever a visitor is making obnoxious remarks in a chatroom, the Chatwing admin can delete his messages or ban him. The admin can even customize the ban message in order to appear more professional. Product review site owners can utilize this feature to keep the chatroom as decent as possible.
Visitors of the Chatwing chatbox can even use their social media accounts as login options. Website owners can use this opportunity to know their visitors more. They can send out invitations and gain new friends.
About Chatwing.com
Chatwing.com specializes in the new field of website chat. Over years, the Chatwing team has introduced chat widget for hundreds and thousands of blogs. The Chatwing application bridges people from many parts of the world, creating global synergy through the Internet. The shout box can be installed in just seconds, and it can be used for varying purposes such as leisure and Internet marketing. It also allows a user to customize the size, color, and name of the widget.