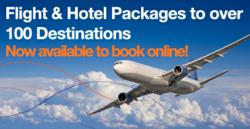 (PRWEB UK) 20 December 2012
Superbreak, the city breaks expert, has launched its first flight-inclusive programme online, offering hotel and flight packages to hundreds of destinations worldwide, including many domestic routes for those wishing to explore more of the UK in 2013.
The company, which celebrates its 30th anniversary on 19th January 2013, will initially offer 14 low cost airlines via its flights & hotel programme, offering breaks from a range of UK departure points to European destinations and even further afield to New York, Las Vegas and North Africa. Customers can now choose from a variety of accommodation options including bed and breakfast, room only, self catering and all-inclusive rates, and a choice of flight times, along with a huge range of pre-bookable excursions, to satisfy even the most adventurous of travellers.
The new look section of the firms' website offers customers a wealth of travel inspiration and destination information, current package deals and more flexible packaging functionality to ensure customers find the perfect break whatever the budget or travel requirements. The flight-inclusive breaks are fully ATOL & ABTA protected and include one checked in bag per person and airport check-in free of charge.
With a well established range of European hotels, the new flight inclusive breaks programme has only served to strengthen the tour operators' already varied product portfolio, offering customers even more ways to experience Continental Europe and beyond. Since the initial product launch in March 2012, sales via the call centre have already been encouraging with the most popular destinations to date including flight inclusive breaks to Amsterdam, Rome and Barcelona.
Jane Atkins at Superbreak said: "We have an amazing range of city and beach locations for our customers to really make the most of their weekends safe in the knowledge that our breaks are fully ATOL protected. There are no minimum stays and no hidden charges, so customers can jet off when they please and concentrate on enjoying their time away, regardless of budget. Our website provides great inspiration about where to go on your short break and makes it really easy to search and book your perfect flight & hotel combination"
About Superbreak:
Superbreak is the internet division of Superbreak Mini Holidays Limited, the market leader for short breaks and last minute hotel deals throughout the UK and beyond, including Edinburgh and London to Paris and even Dubai. Superbreak is part of Holiday Break plc. Based in York, England, Superbreak specialises in booking city breaks in 2-5 star hotel accommodation throughout Britain for the leisure traveller, as well as a host of airport hotels. Superbreak also work with various travel providers offering a range of rail breaks, P&O mini cruise breaks, New Year Breaks, flights & more.
With 5000 plus hotel partners in worldwide locations from Manchester to Brighton, from London to Paris and with great availability and rates for theatre breaks, events at the O2 Arena, various popular attractions and national and international rail partners, Superbreak can offer an outstanding depth and breadth of UK and Overseas short break products.
Note to Editors
We authorise the republication of this content with the condition that a link to Superbreak is included: http://www.superbreak.com