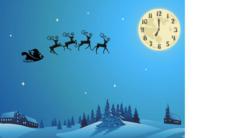 Pre-book parking if the plan is to leave the car at the airport.
Kent (PRWEB UK) 23 December 2012
• Book flights long in advance for Christmas flights.

Check train time tables at least 24 hours before leaving home and just a couple hours again before leaving. There may be unexpected delays and extra time might be needed for the journey or it may be later and that means you would not need to hang around at the train station.
If travelling by car-top up on fuel in case of any unexpected delays and fuel prices tend to rise around this time too, so get fuel a few days before the Christmas peak.
Check for road work delays also. There are many online sites that provide live updates for these; use them to help your journeys.
Pre-book parking if the plan is to leave the car at the airport.
Check the weather forecasts as bad weather can delays flights and even trains and cause road traffic to slow right down.
If travelling by car, cater for bathroom and food stops in the journey time. This is usually a nice event to have a relaxing laugh with who ever is sharing the journey.
If travelling by plane, stick to the restriction rules for size, weight and allowed items to avoid delays at check in.
All these little bits put together cuts down on delays that may cause stress hence making it a smoother journey and definitely a jolly one as the season should be.
If you like our posting, just drop us a line as we would love to hear from you.
Luggage Superstore's established site is in West Kingsdown, Kent. Their aim is providing competitive prices of the highest quality luggage and top calibre Customer Service for online luggage shopping.
Trina Chee-a-kwai
Luggage Superstore
01474854666
Email Information