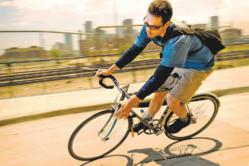 Atlanta, GA (PRWEB) December 21, 2012
1-800 Courier, a nationwide leader in same-day delivery and transportation services, announces bike messenger services in major cities nationwide. The marketing of their bike messenger services is in an effort to increase sales growth and to exceed customer satisfaction, offering a delivery product options their clients can use. The same-day courier continuously improves and strives to be the best choice in the same-day courier industry.
1-800 Courier has a page dedicated to bike messenger service within their "Services" page on their website. Customers can create an online quote and bike messenger services will automatically appear if the service is offered in that area. The bike service is offered in major metropolitan cities throughout the US, including New York, Miami, Washington DC, Chicago, Dallas, Houston, and more. Clients are also able to contact 1-800 Courier customer service 24/7 to verify any bike messenger service locations.
The same-day courier offers a number of benefits with their bike messenger services. Clients receive discount deliveries rates with the absence of fuel surcharges and costs. Delivery service via bike is also eco-friendly and faster for short distance deliveries. Bike service is fitting for small packages that are 5lbs or less. The recommended size of the package can be no larger than 12 x 12 x 12 and should have the ability to fit in a back-pack. 1-800 Courier continues to create value-added services to their current same-day delivery solutions nationwide.
1-800 Courier Delivery Service, Inc. is a recognized leading courier of same-day distribution and transportation services throughout the US. From their headquarters in Atlanta, Georgia, 1-800 Courier successfully provides same-day delivery to a growing list of over 1,500 clients, including Fortune 500 Companies. From packages to palletized freight, 1-800 Courier delivers on-time and fast. With their comprehensive courier technology and expertise, the company develops superior courier logistic solutions.