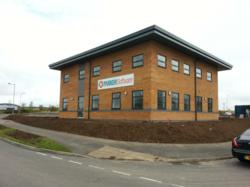 Orlando, FL (PRWEB) December 21, 2012
Parker Software, developers of WhosOn live chat and web analytics software and Email2DB an advanced message automation solution, have finished 2012 on a high. A new product launch of Email2Cloud and also a new purpose built office move to cope with planned future expansion are just some of the highlights for Parker Software.
In a separate announcement by Parker Software, Email2Cloud, which allows real-time automation of online processes for business was successfully launched earlier in the year to provide a hosted alternative to their Email2DB platform.
Parker Software whose headquarters remain in Stoke-on-Trent, Staffordshire, England realized in 2010 that they would quickly outgrow their old premises based on their current growth and future projections. Following an unsuccessful and extensive search for alternative property, Parker Software decided to purchase a plot of land just over an acre in size, two years on the first of three purpose buildings is complete and open for business.
Ian Rowley, Business Development Manager for Parker Software comments "The new office is in excess of 5000 square feet and will eventually house up to 50 people, the site itself has room for further expansion with plans already in place for a further development of 5000 square feet. A third and final phase will be the development of a single development over 10,000 square feet. We anticipate that the site can accommodate the company for the next 15 years based on the current growth rate of the company."
Parker Software, who already have an extensive corporate customer list, sell their solutions predominantly in the UK and US where they also have an office base in Orlando, Florida. The decision for them to stay in Stoke-on-Trent was an easy one for them to make, due to the proximity of 3 major airports and excellent transport links to London to enable them to attend regular client meetings.