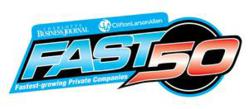 Charlotte, NC (PRWEB) December 21, 2012
In-Flight Crew Connections, a leading full-service staffing company for operators of business class jets, was recently honored to be named one of Charlotte's fastest growing companies by the Charlotte Business Journal. Each year, the Charlotte Business Journal recognizes the region's fastest-growing privately held companies as part of the Fast 50 program. The staffing company recently received the award at the 4th annual Fast 50 Awards Luncheon on December 6, 2012.
The Fast 50 ranking was compiled by the Charlotte Business Journal and CliftonLarsonAllen. Eligible companies are privately held with at least $1 million in revenue in 2011. They also must be based in the 16-county Charlotte region. In-Flight Crew Connections qualified for Fast 50 recognition based on a formula that reflects dollar and percentage growth during a three-year period.
"Being ranked in the top five out of 50 companies was certainly an honor for us," said Jennifer Guthrie, Director of Operations at In-Flight Crew Connections. "We attribute our rapid growth not only to the professionalism of our staff, but also to our dedication to never-ending improvement and quality as a company. We look forward to continued growth as we serve our clients in 2013!"
In-Flight Crew Connections provides professional Corporate Pilot and Flight Attendant solutions for the corporate aviation industry. The company provides a comprehensive array of services, including temporary crew services, payroll management, recruiting, international staffing and more. For the latest company news and information, including recent awards and valuable industry tips, visit In-Flight Crew Connections' Facebook page. To schedule staffing services with In-Flight Crew Connections, call (704) 236-3647.
About the company:
In-Flight Crew Connections is a global leader since 2002, providing aviation industry staffing solutions. Focused on developing customized solutions that meet the unique needs of their clients, their range of services include:

ONe-CALL™ Temporary Crew Services
Payroll Management
Recruitment
International Staffing
For more information visit their website at http://www.inflightcrewconnections.com.