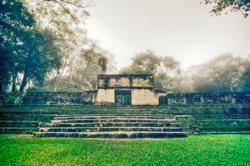 "When you think about it, it's amazing that the celebrations we're hosting today were anticipated by the Maya well before Columbus arrived in the Americas," Ms Fleming said.
(PRWEB) December 20, 2012
Belize's The Lodge at Chaa Creek is counting down to the 2012 Maya Winter Solstice grand celebration after a week of preparation and activity, according to owner Lucy Fleming.
Ms Fleming said that people from around the world have been converging at the Belizean eco resort for days of educational workshops and hands-on training in Maya skills such as tortilla and chocolate making, thatching with jungle palm fronds and the use of medicinal plants in preparation for the grand ceremonies that will take place on the evening of December 21 2012.
"It's been a great cultural exchange. Our guests have been fascinated by not only the history, but the present day Maya culture as well. And in exchange, I think our Maya staff members and neighbours have enjoyed acting as ambassadors for their culture. We've been seeing a lot of communication and mutual respect, which is exactly what we hoped for when we began organising the event almost two years ago," she said.
The Lodge at Chaa Creek, which is located in Western Belize in what is known as the Heartland of the Maya, sits between the ancient metropolises of Caracol in Belize and Tikal in Guatemala and was an important trade and agricultural hub during the reign of the Maya Empire that stretched from Mexico through Belize, Guatemala, Honduras and as far south as El Salvador from around 2,600 BC until it collapsed after the Spanish conquest in the mid-1500s AD.
The eco resort was established by Mick and Lucy Fleming, starting life as a small farm before the Flemings began building simple thatch roof cottages to accommodate the growing number of travellers drawn to the many Maya temples and archaeological sites in the area. Chaa Creek is now known as Belize's first true eco resort, surrounded by a 365 acre private rainforest reserve containing over 70 recorded Maya sites, including the ancient Maya temple of Tunichilen, where the 2012 Winter Solstice celebrations will take place.
"Over the years we became imbued with the local Maya culture and history, so it was very important to us that the 2012 Winter Solstice, which has received so much nonsensical media hype, be celebrated authentically and with the respect it deserves," Ms Fleming said, adding that Chaa Creek Travel Blog has been actively rebuking doomsday and apocalypse theories throughout the year.
"It's been frustrating to us that the true achievements of the Maya , who have been called the world's greatest philosophers of time and developed one of the most advanced civilisations of the ancient world, have been overshadowed by apocalypse theories that have absolutely no basis in fact and were never mentioned by the Maya themselves.
"The Maya were an astute people who developed huge cities such as nearby Caracol, which had over 160,000 people at its peak and was sustained by sophisticated urban planning and agriculture. They were among the first people to develop writing and, make paper, discover the concept of zero and a mathematical system allowing for calculations that continue to astound scholars. For example, they knew precisely when this 2012 Winter Solstice would occur thousands of years ago.
"When you think about it, it's amazing that the celebrations we're hosting today were anticipated by the Maya well before Columbus arrived in the Americas," Ms Fleming said.
Ms Fleming said that Chaa Creek's guests, after having received a grounding in Maya history and culture, are now well prepared for the 2012 Winter Solstice ceremonies. After a traditional Maya feast they'll join local villagers in a candle lit procession to the temple at Tunichilen to participate in the Winter Solstice ceremonies before ending the evening with a celebration.
"We wanted to combine education with a sense of adventure and fun to create something truly special. And judging from the feeling of anticipation right now, I'm very happy that we succeeded. It is, after all, truly a once in a lifetime experience," Ms Fleming said.
"And looking around here, you certainly don't get the feeling that the world is about to end", she added.