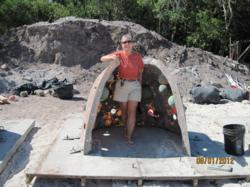 with a delightful balance of solitude and intimacy, as well as energetic island adventures – perfect for honeymoons, anniversaries or other celebratory trips.
Pine Cay, Turks & Caicos Islands (PRWEB) December 22, 2012
The Meridian Club, on the private island of Pine Cay, prides itself on being a unique authentic upscale Caribbean vacation experience by maintaining its natural "the way it used to be" feel. It doesn't have air conditioning (the 800 acre island breezes are enough), offer TV or phones in the room (isn't that the point of a vacation?), or even provide in-room internet access, although there is free Wi-Fi in the lounge (so guests can focus on each other while enjoying their private bungalow, complete with private thatched hut, outdoor seating and outdoor shower). Even so, the property has embarked on changing with the times by providing new and/or improved promotional tools for new guests to learn about the property, structural additions to the island to maintain sustainability, and a promotional offer for guests that most frequently visit the property.
To coincide with their annual reopening in November, The Meridian Club announced promotional items to provide more accurate information to their guests and potential guests. They launched a new website, which also includes a new blog with writing submitted by a variety of people close to the property including guests, owners, and staff, and have redesigned their logo while altering policies to adhere to what their brand has always stood for – a quality experience in a remote environment.
In a continuous effort to protect the environment, the island and the marine life in the area, the club has added a structural addition to the island called "reef balls". The reef balls are concrete structures located in the water near a portion of the islands' north shore. Slightly more than 200 balls were placed in September. They are designed to prevent further erosion, however, they also attract fish, crustaceans and colonies of coral, so it has become an interesting "do it yourself" snorkeling site.
To mark these new events, the property has launched a Romance Package promotion which has been recently featured on Andrew Harper's Hideaway Report saying it provides couples "with a delightful balance of solitude and intimacy, as well as energetic island adventures – perfect for honeymoons, anniversaries or other celebratory trips." The package includes welcome Champagne, a castaway picnic on a deserted island and a private dinner under the stars. Also included in all room reservations is daily breakfast, lunch and dinner, round-trip transfers from the international airport, snorkeling daily and use of sea kayaks, bicycles, tennis courts, swimming pool. Packages start at $4,500 per room for five nights and are valid for new reservations confirmed by April 1, 2013 for travel through July 30, 2013 (based on availability and not to be used in conjunction with other promotions.)
The Meridian Club is a private island hideaway in the Turks & Caicos, along the northern part of the Caribbean archipelago. It's 800 acres of protected wildlife provides 2 miles of pristine white sand beach, endless adventures both on land and under water, and a 13 unit resort. Nightly room rates change by the season, but always include meals, most activities and transfers to and from the property. For more information, contact manager(at)meridianclub(dot)com or 866-746-3229.