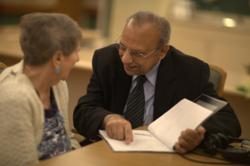 "We already are innovating the field of Memory Care with tools and methods promoted by Dr. Govind Bharwani. Becoming an Alzheimer's Early Detection Alliance member makes perfect sense," says Shawn Litten, Executive Director of St. Clare Commons.
Perrysburg, OH (PRWEB) December 20, 2012
The Sisters of St. Francis with Sylvania Franciscan Health and Franciscan Living Communities have chosen the Toledo Catholic Diocese, Blessed John XXIII Community, St. Rose Parish as partners in advocacy, education and ministry to seniors.
Other important healthcare partnerships are in the works that will soon be released. The Alzheimer's Association of Northwest Ohio is among the first working relationships to provide education and resources to residents, families, staff and the greater community. St. Clare Commons has become an Alzheimer's Early Detection Alliance member to help bring awareness and resources to those who have been affected by dementia.
Another leader in dementia care, Dr. Govind Bharwani, Ph.D., Director of Nursing Ergonomics & Alzheimer's Care (Nursing Institute) and Co-Director of Ergonomics (College of Engineering) at Wright State University, has been instrumental in the very design of St. Clare Commons. Earlier this year, Long Term Living Magazine named Dr. Bharwani a "Leader of Tomorrow."
What is an engineer doing in dementia healthcare? Another Franciscan Living Community, St. Leonard Franciscan Living Community sought Dr. Bharwani out to reduce caregiver injuries. After demonstrating great success in reducing injuries for direct care nurses and nursing assistants, the team at St. Leonard asked him to evaluate the campus's dementia and Alzheimer's space to reduce resident falls and injuries.
Dr. Bharwani took that challenge and created Behavior-Based Ergonomics Therapy (BBET) with St. Leonard in 2010 and has since proven overwhelmingly effective. Research has shown a 35% reduction in falls and 55% drop in use of PRN (emergency) medications. There was also a more than 50% jump in improved mood – and 60% fewer uses of certain anti-psychotic medications for behavior management.
With a lot of preparation, ergonomically designed features and proper training in use of space and abilities, residents feel better and even those who would normally withdraw are more engaged. Working with the many devices and systems as instructed by Dr. Bharwani, the team feels more at ease, residents feel less stressed. Everybody wins.
Dr. Bharwani has been recognized nationally and several Ohio communities have implemented his program to improve patient care. The team at St. Clare Commons is excited to bring his methods and tools to Northwest Ohio.
Future community education will be offered through St. Rose Parish, Blessed John XXIII and other local venues. St. Clare Commons, under construction, and expected to open in the summer of 2013, has been designed with education in mind with several meeting spaces.
In addition to meeting spaces, the 135,000 square-foot first phase building located on Five Point Road just east of State Route 25 in Perrysburg, Ohio, one mile south of Levis Commons, will include 60 private skilled nursing suites, 56 assisted living apartments and 36 studio apartments dedicated to specialized memory care.
A well-appointed chapel, state-of-the-art therapy lab, fountains, ponds, two rooftop terraces, a piano lounge, community rooms, a coffee shop, and many connections to Blessed John XXIII round out the world class amenities. Future phases include independent senior apartments, duplexes, ranch homes, a club house with a restaurant and pool, and much more to make St. Clare Commons a true Continuing Care Retirement Community or "Lifetime Campus."
If you would like more information about St. Clare Commons, please call 419-250-5227, email info(at)stclarecommons(dot)org, click on StClareCommons.org or visit Faceboook.com/StClareCommons for the most up to date news.
REVERENCE SERVICE STEWARDSHIP
St. Clare Commons is a member of Franciscan Living Communities and is sponsored by the Sisters of St. Francis of Sylvania, Ohio, in partnership with Blessed John XXIII Catholic Community and the Toledo Diocese. Franciscan Living Communities is a non-profit leading provider of senior living services to 1,200 residents in communities throughout Ohio and Kentucky offering continuing care, independent living, assisted living, rehabilitation, skilled nursing, memory care and adult services. In all relationships, we commit to Reverence for, Service to, and Stewardship of the whole person with whom we are blessed to work. To learn more about Franciscan Living Communities log on to our website at http://www.flcsylvania.org.