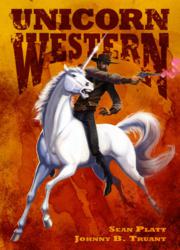 We've been amazed at how keen our fans are to get their hands on a copy of this book.
Cincinnati, OH (PRWEB) December 23, 2012
A new genre of fiction, born of a joke and a dare, hit shelves in Amazon's Kindle bookstore today with the launch of the Unicorn Western. The book by Sean Platt and Johnny B. Truant, hosts of the Better Off Undead (BOU) comedy horror podcast, was the result of an off-topic conversation during the podcast.
When Platt joked on the podcast that he planned to write a Western without doing any research, his usual writing partner and third BOU host David Wright had severe misgivings.
Wright patiently explained to Platt how much research a 19th century Western needs. "Are you familiar with the medical stuff back then?" Wright asked. "Are you familiar with the guns that were used? Are you familiar with the smoke that comes out of a gun back then?"
Platt remained defiant. "I'm going to write a Western, and I'm going to do no research," he said.
"I can't wait to see that," Wright said. "It would probably have freaking unicorns in it."
Platt couldn't resist the implicit dare, and with that, The Unicorn Western was conceived. Platt invited Truant on board to co-write it with him. The Unicorn Western features a harsh and unforgiving desert, a gun-toting lonesome cowboy, and a unicorn named Edward.Not only does it have unicorns; the gun smoke is pink.
Truant explained the thinking behind the new genre of Western. "You put one unicorn in it and then when anything comes up that would usually need research, you can say it's clearly not earth," Truant said. "You can also use a different gunsmoke color."
Sean Platt added that despite the book's flippant origins, it has sparked a ton of buzz among regular readers and fans. "We've been amazed at how keen our fans are to get their hands on a copy of this book," Platt said. "I think it's partly the sheer fun of it, partly the audacity of the idea, and partly that our readers want to see how we'll pull this one off. I have to say, I think we've done it."
David Wright was unavailable for comment.
Suitable for readers of all ages, the first installment of The Unicorn Western is available to download for the Kindle priced $2.99.