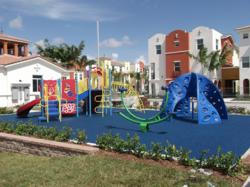 The company is passionate about play and the impact it has on America's children.
St. Augustine, FL (PRWEB) December 21, 2012
Throughout 2012, BYO Recreation (BYO) has made purchasing playground equipment more affordable, making it easier for customers to enjoy the benefits of their investment.
One of the primary goals at BYO is to encourage the creation of more play for children. Being in the playground and recreation industry, the company is passionate about play and the impact it has on America's children.
The most notable of BYO's efforts in 2012 was the $1 Million Create Play Fund. Through this program, BYO matched dollar-for-dollar $1 Million of customer funds and reached their goal of creating more than 100 new playgrounds nationwide, creating more play for children.
Playgrounds provide children with safe, fun and playful outlets. They allow children to express themselves creatively and socially, while simultaneously promoting positive mental and physical development.
Investing in a playground does not go unnoticed by the community. Whether it is a school, church, residential complex or a public park, the addition of a playground creates a deeper sense of togetherness within the community. The lasting benefits of this kind of investment can be felt for years.
BYO was inspired by the success of the Create Play Fund to continue helping communities around the country create play. Additional BYO programs enabled their customers, which includes schools, churches and parks, as well as non-profits, charities and other organizations, to take advantage of these cost-savings.
To help broaden their product selection for their customer base, BYO acquired Teachers' School Supply (TSS) in May 2012. Specializing in school furniture, supplies and equipment, the addition of TSS to the BYO family of brands has transformed both companies into a one-stop resource, helping their customers inside the classroom as well as out.
Between the $1 Million Create Play Fund, the additional programs BYO had throughout the year and the acquisition of TSS, they helped create hundreds of new play areas nationwide.
About BYO Recreation
Headquartered in St. Augustine, FL, BYO Recreation is one of the most comprehensive and fastest growing recreational equipment suppliers in the world. Since 1999, the company has helped thousands of schools, churches and communities create recreational spaces that are truly Beyond Your Ordinary. For additional information about BYO Recreation, visit http://www.byoplayground.com.
About Teachers' School Supply
Teachers' School Supply, headquartered in Saint Augustine, Fla., is one of the largest school furniture, school equipment and school supplies distributors in the country. Since 1987, the company has provided high-quality, affordable equipment and superior customer service to thousands of churches, daycares and schools. For more information about Teachers' School Supply, visit http://www.teacherssupply.com.