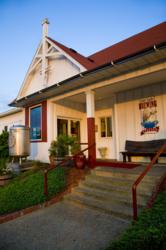 Kill Devil Hills, NC (PRWEB) December 21, 2012
The Outer Banks Brewing Station and Head Brewmaster Scott Meyer, are pleased to announce two cask conditioned firkin releases for all dark beer, real ale aficionados.
On Friday, December 21, 2012, a Winter Solstice/End of the World Ale will debut, which is composed of a coffee oatmeal stout brewed with Morning View Coffee of Nags Head, NC, from two -10.8 gallon firkin casks.
"A firkin was filled with Shipwreck Stout (our Oatmeal Stout) along with a portion of dark roasted Nicaraguan coffee from our local coffee roaster Morningview Coffee, along with some priming sugars and some fresh yeast. The ale was allowed to re-ferment in the cask to infuse the stout with natural carbonation and rich coffee flavors," said Meyer.
"At noon on Friday (December 21, 2012) we will tap the Firkin. When a cask-conditioned ale gets tapped it will be at its best for about 24 hours which is why we make it in such small amount," said Meyer. "I doubt there will be much of a problem draining this one!"
The following Friday, December 28, 2012 at noon the brewmaster will release two more cask-conditioned versions of the same Stout, one with vanilla beans added, and one with chocolate. These two will be conditioned in "Pins" (half the size of a Firkin).
These cask condition ales will be available in limited supply.
The Outer Banks Brewing Station is the first wind powered brewery in the United States and is located on the Outer Banks of North Carolina in Kill Devil Hills, beside the Wright Brother's Monument.
For more information, please visit the Outer Banks Brewing Station website.