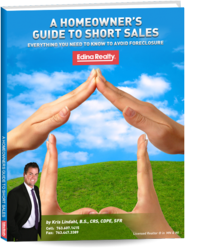 The very best tools are available, but you have to have the right agent
Blaine, MN (PRWEB) December 20, 2012
"I receive a lot of questions via phone and email about the Ocwen Financial short sale process," Kris Lindahl said. He continued, "For this reason I held a seminar yesterday morning and invited those who had specific questions about Ocwen and those who had general questions about the process." The seminar saw forty-plus attendees Wednesday morning. "I was happy with the attendance numbers," Kris Lindahl said.
"The Ocwen process begins, after you've selected your agent and found a buyer, by sending the lender several documents including a hardship letter, paycheck stubs, taxes, and a purchase agreement," Kris Lindahl explained, and continued, "From there it is up to the Ocwen negotiator and your agent to find an appropriate selling price and at that point there will a be a short sale approval letter written up."
"I find these seminars to be a great way to get the word out. I don't just cover the specific lender or bank but also go over some of the resources that are available for people," Kris Lindahl said. He continued, "The very best tools are available, but you have to have the right agent and with me as your agent I can guarantee that you will have the best tools to buy or sell a home."
Kris Lindahl and the Kris Lindahl team consists of several hard working, full-time Edina Realty realtors that hold the following designations: Certified Distressed Property Experts, Short Sale & Foreclosure Resources, and Council of Residential Specialists. "Our success is directly related to our technological advantage over other agents nationwide," Kris Lindahl expalined.
Call Kris Lindahl and the Kris Lindahl team at (763) 607-1415 for more information. Download "A Homeowner's Guide To Short Sales", a complimentary eBook published by Kris Lindahl. Visit the Minnesota Short Sale Calculator Website to check your eligibility and the Kris Lindahl real estate website.