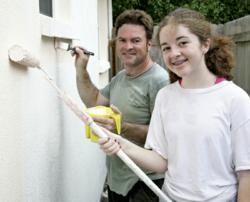 ... service-learning is active learning in which young people contribute to their communities ...
Eugene, OR (PRWEB) December 26, 2012
Eugene, OR (PRWEB) December 26, 2012—"Service learning is an approach which links active learning to community service," says Steven Ungerleider, PhD., founding editor of The Prevention Researcher. "While this educational approach is of interest to schools, it has a strong service component which can benefit community-based organizations."
In an article published in The Prevention Researcher, James Kielsmeier, Ph.D., founder of the National Youth Leadership Council, explores the history, present, and future of service-learning. He also describes recent efforts to establish standards for quality service-learning practice.
"As a strategy," says Dr. Kielsmeier, "service-learning weaves together related concepts from the fields of formal education, civic education, national service, and youth development. Simply put, service-learning is active learning in which young people contribute to their communities."
Kielsmeier notes that "public discourse about young people tends to view them as consumers of resources rather than active participants in community life. Young people are described primarily as recipients of services and portrayed as victims even by many of the organizations and services designed to be youth advocates."
"Service-learning proponents, in contrast, call for a new vision of youth," says the author. "They recognize that young people have valuable strengths and the capacity to contribute to improving people's lives, even while they are still learning. Service-learning advocates view all people in a democratic society as citizens with the capacity to contribute—regardless of their age, economic background, educational attainment, race or ethnicity, or physical or learning challenges."
In recent years, there has been a relative decline in use of service-learning in schools. "Just as art, music, social studies, and elementary school science have received short shrift in the learning day," says Dr. Kielsmeier, "so has attention to engaged learning practices such as service-learning. Because service-learning brings depth and interdisciplinary focus to the curriculum, and because it requires hands-on activities, it can take more time than traditional reading and lecture coursework or drilling for tests."
Even so, "as understanding of service-learning and its distinctive feature of youth contribution has grown, more effective professional development models to help preservice, new, and experienced teachers become more skilled in the instructional methodology have been developed." There are several promising service-learning initiatives described in the article.
In reviewing service-learning programs in schools, Dr. Kielsmeier saw that "young people who are willing and able to add benefit to their communities can be found everywhere. What often holds them back are the adults who don't make room for them at the tables where decisions are made. When young people are tapped, however, they lead."
Dr. Kielsmeier concludes that "the time is ripe for new policy initiatives that strive to integrate state and national policy to advance engaged learning, youth development, and service-learning."
For a copy of the complete article on "Service-Learning: The Time is Now," link directly to The Prevention Researcher or http://www.tpronline.org
About The Prevention Researcher
Founded in 1994, The Prevention Researcher is published by the non-profit, Integrated Research Services in Eugene, Oregon. The quarterly journal focuses on successful adolescent development and serves professionals who work with young people in a variety of organizational settings.
Each issue of The Prevention Researcher covers a single topic, presenting the latest adolescent behavioral research and findings on significant issues facing today's youth. The journal provides information about programs that create supportive environments for youth, strategies for preventing problems affecting adolescents, and resources that help youth-serving professionals.