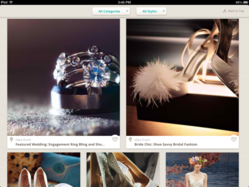 "We're closing the loop between inspiration and action."
Seattle, WA (PRWEB) December 21, 2012
Gorgeous wedding inspiration that you can use to plan, book, or buy: now possible on your iPad, with OneWed's Wedding Inspiration app.
With partnerships from industry stars like Wedding Paper Divas, Allure Bridals, Blue Nile, celebrity Ron Ben-Israel, and over 40,000 local wedding vendors, OneWed is giving brides beautiful, tagged and categorized, high-resolution images that lead back to a point of purchase or booking. Never again will brides be stuck without actionable information.
"We're closing the loop between inspiration and action," says OneWed's editorial director Azure Nelson. "Image search has driven 150% year over year growth on our website. Building the app was the natural next step."
A native tablet app was the clear choice as it combines the visual and tactile intimacy of a magazine with the digital experience and features of the web. Brides are already using tablets in record numbers to plan their weddings.
"For local vendors and national brands, the app offers what traditional wedding sites, focused around directory listings or banner ads, can't," CEO John Scrofano explains. "Brides want beautiful images. Vendors and product companies have these images. Why force a banner ad between them? Instead, we feature 'native advertising', using product or portfolio images as bridal inspiration."
To download OneWed's new free inspiration and planning app for iPad, visit this link: https://itunes.apple.com/us/app/wedding-inspiration/id569359791?ls=1&mt=8
Local vendors can sign up on OneWed.com and upload an unlimited number of high-resolution photos for free.
Advertising or Business Development Inquiries:
sales(at)onewed(dot)com
Media Inquiries:
Azure Nelson, Editorial Director
press(at)onewed(dot)com
About OneWed:
OneWed is software + media company proudly based in Seattle, WA. OneWed strives to make wedding planning more about what's important; love, celebration, and the marriage by providing the inspiration and tools to make planning smarter and more fun. For more info please email support@onewed.com