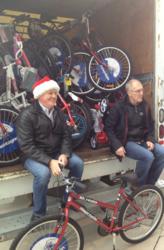 It's important to us to be able to give back in a way that is meaningful to us as a company and a family: in support of children's health.
Burlington, Ontario (PRWEB) December 21, 2012
Life Science Nutritionals, the makers of IronKids Gummy Vitamins for kids, believes strongly in helping families raise healthy kids everywhere – around the corner and around the globe. That's why IronKids is a proud supporter of many local and global children's charities, especially during the holiday season.
IronKids supports children by doing everything from donating vitamins as prizes for raffles that raise money for research into childhood illness to funding the Healthy Snack program for their local community school to sponsoring children's sport programs to special holiday programs.
During the holiday season, IronKids are particularity proud to support Pace Performance and their Bikes for Kids program that collects donations and purchases hundreds of bikes for their local Children's Aid Society. Not only does IronKids support these efforts financially, CEO Stuart Lowther personally helps deliver the bikes to the Children's Aid with Pace owner Greg Pace.
Throughout the year, IronKids supports children's charities like Strategies for LIFE, Gods Little Angels, and STIMMA (Short Term International Medical Mission Abroad) as well as local organizations aimed at helping kids within the community.
Thanks to a donation of IronKids Calcium and Omega 3 gummy vitamins, Strategies for LIFE was able help two orphanages, the Rafiki orphanage located in the Simanjiro District of Tanzania and the St. Lucia Hospice Care facility that provides care for 13 HIV positive kids.
"The vitamins are particularly welcomed [in the St. Lucia Hospice] to help keep opportunistic infections at bay," says Strategies for LIFE Director, Catherine Mulvale who adds that the St. Lucia program includes a mobile medical team that goes into impoverished rural communities to help at risk families stay healthy.
"The [IronKids] vitamins are a welcome addition to our program. I cannot put into words how incredibly important they are to these children, their families and their caregivers."
"Ours is a family business, and we believe in supporting families and giving back to the community," says IronKids Owner and Social Media Manager, Deborah Lowther who believes in taking a hands-on approach to supporting these charities.
The Lowther's three daughters volunteer at Sew on Fire Ministries throughout the year assembling school supplies, baby layettes and items of need into hand sewn bags that are then sent to foster children, schools, single mothers, and the poor in countries such as Peru, Guatemala and Haiti.
"We make the Sew on Fire Ministries a family event," adds Deborah. "I love Sew on Fire because it teaches them about the spirit of giving and how fortunate we are, but it also shows them that they can help people by giving their time."
"One of the reasons we started our own business was to be in a financial position to give back to the community and really make a difference," says Stuart Lowther. "It's important to us to be able to give back in a way that is meaningful to us as a company and a family: in support of children's health."