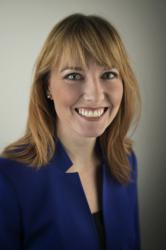 I'm honored as an interior designer to be named a principal at KSQ Architects. My team works very hard at creating a bridge between the exterior and interior of our projects. That's when cohesive design takes shape.
Tulsa, Oklahoma (PRWEB) December 20, 2012
Shannon Meyer, an interior designer and member of IIDA, has been named the first woman principal at KSQ Architects. Ms. Meyer joined KSQ in 2005, and since 2010 has served as KSQ's director of interior design where she leads a team of 13 interior designers on projects nationwide and provides leadership in business development efforts. Most recently her clients have included Oklahoma State University, Oral Roberts University, the University of Texas at Dallas and Southern Methodist University. Ms. Meyer is a graduate of Virginia Commonwealth University and a member of the International Interior Design Association.
ABOUT KSQ ARCHITECTS
KSQ Architects is a full-service architectural firm providing programming, planning, architectural and interior design services. The firm specializes in collegiate life, K-12 and multi-family housing facilities throughout the United States. A hands-on, environmentally sensitive approach is fundamental to each KSQ project, and ensures a rare level of personalized attention and sustainable methodology. Based in Tulsa, Okla., the firm also maintains offices in Texas and New York. http://www.ksqarchitects.com