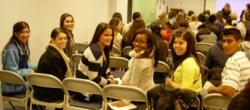 Dr. King's conviction to fight for racial justice set an example for all of us to follow, even in small ways, like speaking up when you hear hateful or racist language.
Garden City, NY (PRWEB) December 21, 2012
On January 21, 2013, ERASE Racism will hold its fourth annual Student Leadership Forum. The free full-day workshop, which will take place on Martin Luther King Day, is designed to teach high school students about structural racism and steps that students can take to bring about change.
Four years ago, ERASE Racism, in collaboration with student volunteers, designed the Student Leadership Forum as a way to teach students about racial equity through enjoyable and hands-on activities, which include small group discussions, line debates, watching and reacting to video clips, and keynote address by a community activist.
Last year, 81 students from seventeen different high schools on Long Island participated in the workshop. Students discovered how years of discriminatory public policies and practices have created racial disparities that are often wrongly attributed to aptitude rather than differences in access to opportunities. The students also discussed current topics, such as affirmative action, the idea of being "post-racial", the benefits of diversity, and housing discrimination. After participating in the forum one student said, "We learned and discussed issues that teachers and staff members don't normally discuss in school." Another said, "The keynote was incredibly inspiring & passionate. It compels me to become more active."
Olivia Ildefonso, coordinator of ERASE Racism's Student Leadership Forum, remarked, "It's an honor to be able to hold this important workshop on Martin Luther King Day. Dr. King's conviction to fight for racial justice set an example for all of us to follow, even in small ways, like speaking up when you hear hateful or racist language. This is one of the key points that we hope to get across to students at the Forum, that every person has the ability to be an activist for racial justice."
This year's Student Leadership Forum will be held on Monday, January 21, 2013 in Garden City, NY at the Waldorf School of Garden City. For more information about the event and to register, please visit the event page on the ERASE Racism website: http://eraseracismny.org/