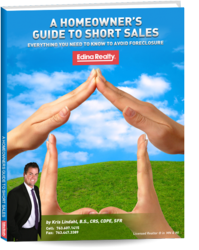 The ever-growing video series that I created on YouTube is a great resource for those looking for short sale information
Blaine, MN (PRWEB) December 20, 2012
"The ever-growing video series that I created on YouTube is a great resource for those looking for short sale information,"Kris Lindahl explains, and continues,"The newest video I'm working on, The Provident Funding Short Sale Process video, will be released uploaded to the website sometime over the weekend."
Kris Lindahl's video series on YouTube includes videos on the Wells Fargo process, the US Bank process, The Merrill Lynch process, and many more. "I cover banks, lenders, and specific cities in the video series,"Kris Lindahl says.
In addition to the video series Kris Lindahl also created the Minnesota Short Sale Calculator and published an eBook titled "A Homeowner's Guide To Short Sales" that is available for complimentary download.
"I'm always looking for ways to get the technological edge over other agent's and then pass that on to my clients and, really, anyone looking for real estate information,"Kris Lindahl says, and continues,"When buying or selling a home you absolutely need the best tools at your fingertips and with me as your agent I can guarantee that will always be the case."
Call Kris Lindahl and the Kris Lindahl Team at (763) 607-1415 for more information. Visit the Minnesota Short Sale Calculator website to check your eligibility.