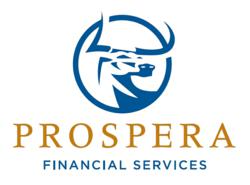 Prospera Financial Services has designed a program to put laser focus on philanthropic efforts.
Dallas, TX (PRWEB) December 21, 2012
Prospera Financial Services has designed a program to put laser focus on philanthropic efforts. The program is divided into three categories Time, Talent & Treasure, Employee Matching Program and Corporate Cares Program.
The Time-Talent & Treasure consists of a committee of employee volunteers. This committee coordinates quarterly and holiday events along with an annual food drive. This program also offers voluntary time off which allows employees to support their local communities. Over the course of the year, Prospera has adopted an elementary school, raising money for the school through various home-office endeavors. Prospera also participated in an annual food drive to benefit a subsidiary of the North Texas Food Bank along with raising money for Community Partners of Dallas.
The Matching Gift program matches employee donations to charitable organizations and educational institutions. This summer Prospera matched all employee donations made to the Central Texas Red Cross in answer to the Texas Wildfire outbreak that occurred. The donation helped provide 50 fire victims with food and shelter for the night as well as help with their home cleanup.
The Corporate Cares program provides corporate level support to predesignated charities through employee payroll deductions and at the discretion of the executive team at the firm. Charities selected for 2012-2013 FY include- St Jude's Children's Research Hospital, American Cancer Society and Ronald McDonald House.
Prospera receives many requests to help support charitable organizations throughout the year and hopes to continue to show support and help those in communities across the country.
About Prospera Financial Services
Founded in 1982, Prospera Financial Services, member FINRA/SIPC and a registered investment advisory, offers the flexibility and resources only found at some of the nation's largest broker dealers. Headquartered in Dallas, TX, Prospera was named Broker Dealer.