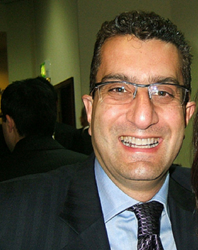 (PRWEB) December 24, 2012
Tariq Drabu, leading Manchester oral surgery specialist and the owner of Langley Dental Practice has today marked 2012 as the best and most successful year ever for the Heywood Middleton and Rochdale Dental CATS service. Speaking as 2012 draws to a close Tariq Drabu said "2012 has been a year of strong landmarks and great strides forward in terms of the service, its staff and its achievements. 2012 has been our best yet ever in terms of service delivery, quality, value for money and patient satisfaction."
The Dental CATS scheme, led by Tariq Drabu is an innovative, pioneering scheme to bring specialist dental surgical care closer to communities in Middleton, Heywood and Rochdale in Greater Manchester. Tariq Drabu who is registered with the General Dental Council as a specialist in oral surgery is the clinical lead for the service. Tariq Drabu and his Langley Dental Practice team originally won the bid for the Dental CATS in April 2009. The Dental CATS was commissioned in September 2010 and was originally due to run until 31 March 2013. One of the highlights of the year was the announcement of a contract extension up until March 2014. This was announced in October following detailed discussions between Tariq Drabu and the commissioners, NHS Heywood Middleton and Rochdale. Speaking about the contract extension Tariq Drabu said "The award of the contract extension was the high point of the year as far as the dental CATS Service was concerned. It demonstrated a degree of confidence by the commissioners in our ability to deliver a high quality and value for money service that is responsive to the needs of patients."
Another achievement of note in 2012 was the extension of the dental CATS service to run every day of the week and offer evening sessions as well. The dental CATS service runs out of two sites on Monday in the evening, Tuesday all day, Wednesday all day, Thursday all day and most Fridays. Speaking about the increase in demand Tariq Drabu said "2012 has been the year of tremendous increase in service delivery. Originally when we started the service was just running one day per week out of one site. It now runs out of two dedicated sites in Middleton and Heywood and runs virtually every single day of the week. The ability to offer Monday evening appointments has gone down very well with our service users in feedback surveys. In the Rochdale borough the Dental CATS Service is located at The Phoenix Centre in Heywood and The Langley Dental Practice in Middleton." Tariq Drabu operates out of Middleton and is supported by Drs Sin Yong and Tina Liu who work at Heywood.
Tariq Drabu went on to say " Another importance landmark was the collection of strong evidence-based feedback from our service users which indicated a high degree of satisfaction. The surveys were conducted by the Tariq Drabu affair and media department which is a new customer focused entity within the Langley Dental Practice set up with the aim of increasing the profile of the practice through different outlets and also looking at different revenue streams. Feedback from our service users has been overwhelmingly positive. The service has drawn praise for its speed, efficiency, friendliness and above all its high quality patient experience. The Primary Care Trust is very pleased with the service since for each patient we are about one third of the cost of treatment in hospital and our turnaround time is quick. Overall I am immensely proud to have been involved in setting up a scheme that I believe is high quality, patient centred and above all value for money."