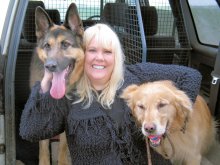 Animal Friends Insurance receives, on average over 30 requests a week for funding from animal welfare charities
(PRWEB UK) 22 December 2012
Animal Friends Insurance has challenged themselves to reach 100,000 likes which will amount to £100,000 being raised solely through Facebook. With over 90,000 likes already Animal Friends Insurance is looking to give the campaign a boost with the hope of reaching 100,000 before the end of Christmas.
As a pet insurance provider that is known to support animal welfare charities, Animal Friends Insurance receives, on average over 30 requests a week for funding and support from various animal welfare charities; from dogs to horses, rabbits to exotic pets, the number of abandoned animals is increasing.
Recently Animal Friends Insurance reached a milestone in donating over £1million to 208 different animal charities worldwide. One initiative is to donate money via Facebook whereby for every 'Like' on their Facebook page (Feel Good Park) Animal Friends will donate £1 to charity.
In addition this campaign supports other Facebook initiatives such as their 'Feel Good Park' charity competition whereby animal charities can win a donation from a fund of £10,000 by public votes.
Elaine Fairfax, Managing Director of Animal Friends Insurance said "We're very aware that in the last five years animal charities have seen a 50% increase in abandoned animals, not to mention the rising costs in vet care. We are always looking for new ways to support and raise the profile for as many animal welfare charities as possible."
Notes to Editor
About Animal Friends Insurance
Animal Friends Insurance is a specialist pet insurance company that has been providing cat, dog and horse insurance policies for over a decade. They are one of the top ten providers (Datamonitor 2011) and are based entirely in the U.K. Animal Friends Insurance is an ethical business that is committed to helping animal welfare charities worldwide by supporting projects and providing grants, being the only pet insurance company that donates large amounts of its profits to animal welfare.
Animal Friends is the trading name of Animal Friends Insurance Services Limited, company number 3630812, registered office Animal Friends House, Sunrise Way, Solstice Park, Wiltshire, SP4 7QA. Animal Friends is regulated by the Financial Services Authority, FSA Registration Number: 307858 http://www.animalfriends.co.uk