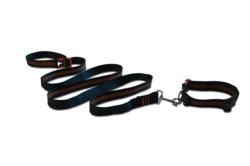 It's always nice to re-use and re-purpose materials that ordinarily would be discarded.
Asheville, NC (PRWEB) December 20, 2012
Tailor-made, non-stretch polyfilament webbing makes for versatile hammock suspension systems, and strong, stylish canine collars and leashes. Welcome to the first pet product by Eagles Nest Outfitters, Inc., the original parachute hammock creator.
A true repurposing story, ENO's dog collar and leash are crafted using excess materials from their Atlas Suspension Strap manufacturing. The upcycled webbing, retaining the Atlas' signature orange thread, is durable and flexible, ideal for dogs who lounge in the yard or tear through the country.
ENO considered multiple uses for the excess Atlas webbing – including human belts and a substitute strap for other products – before deciding upon their first pet product
"We have a 100% webbing consumption with our other straps and so in the development of the Atlas Strap we ran into a problem we don't normally have," said ENO Designer Brendan Garvey. "Because of the webbing's unique performance characteristics it just seemed natural to make a dog collar and leash."
By producing the collars and leashes, ENO has a use for the 5-7% loss of webbing for every Atlas made, reducing their carbon footprint while making environmentally considerate dog products.
The leash features a dexterous swivel hook and a side-release buckle that allows for three handle conversions: hand-held, waist-worn or fixed-leash (to a tree/post.) The collar, available in two sizes, showcases an easily adjustable tri-glide buckle for a personalized fit on most dogs. It also features a high-strength, side-release buckle – the same one found on their hammocks – for easy take on and off, and a plastic tag clip minimizing clutter for easier clipping.
Although ENO's collar and leash is their debut in the pet genre, it is not their first product made from re-purposed materials; their Earth Bags, Strap Bags and ParaPillows are all created using excess materials from their hammock manufacturing.
"It's always nice to re-use and re-purpose materials that ordinarily would be discarded," said ENO General Manager Lane Nakaji. "And we love dogs."
The leash and collar will be featured at the Outdoor Retailer Winter Market in Jan. 2013 and will start shipping Summer 2013.