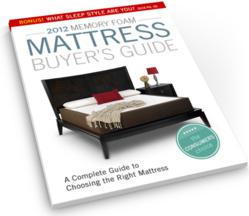 Tempe, AZ (PRWEB) December 20, 2012
With so many brands of memory foam and so much conflicting information, consumers often report confusion when researching mattress purchases. It can be difficult to know what is important, and what questions should be asked while shopping. The latest piece by the mattress industry experts at Mattress Inquirer seeks to provide the top concerns that shoppers should be aware of.
In the post, titled "6 Questions To Ask When Buying a Memory Foam Mattress", the blog addresses the factors that most affect quality and health. These include the manufacturing origin of the foam, the density, what the foam is made of, the type of fire barrier used, and the type of reviews available. Unlike many other guides, this new informational blog post sticks to the core facts, offering a clear and concise checklist for readers.
Often, people with little knowledge of the bedding industry assume that the best mattresses come from the brands they see advertised most. But, just because a brand is well advertised doesn't mean it offers the best option for one's back, or bank account. When looking for a new bed, shoppers need to dig a little deeper and learn what lies beneath the label, so to speak.
The focus of the guide is on selecting the bed that offers the highest quality, in terms of longevity and comfort, and that avoids negative effects to health and the planet. The article offers suggestions about what to look for, what to avoid, and why; making it essential reading for any person in the market for a new bed.
Mattress-Inquirer.com is an informational blog that provides relevant and recent news related to the health, sleep, and mattress industries. In addition to covering new technologies, mattress reviews and opinion pieces, readers enjoy a variety of helpful educational resources designed to aid shopping and sleep quality.