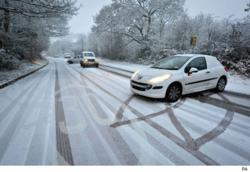 Preston, Lancashire (PRWEB UK) 21 December 2012
With the winter weather in full flow, it can be increasingly risky to drive even small distances. Road accidents increase in number over the winter months, with a sharp increase in freezing weather, so it is important to know how to stay safe when on the road. AYB Law, of Preston, have stood up and offered advice on how to stay safe on the roads and help avoid accidents, following the rise in claims seen over the period and the causes of such accidents.
In their very nature, it can be difficult to avoid accidents, but if you are the cause of one it can be very costly. There is damage to your vehicle, other vehicles, harm to yourself and the possibility of claims against you should careless driving harm others. AYB Law notice larger amounts of claims for road traffic accidents during winter, but this doesn't have to be the way if you drive with safely and with consideration of the circumstances.
The biggest increase to the risk of driving is the weather. When temperatures plummet it is much easier to lose control of your car. Heavy rain and ice both make it more difficult to keep your car going exactly where you want it to – a problem which is often exacerbated by low light conditions, fog and busy roads around the Christmas period.
It is difficult to find definitive statistics for the increase in accidents during the winter period, but a survey by Continental tyres found that there were 6,393 more road traffic accidents in winter than in the summer. The number of accidents rose much more sharply once the temperature dropped lower than 7 degrees centigrade, which show the danger of freezing and near freezing conditions. AYB Law can attest to this as looking through compensation claims made by drivers last winter was significantly higher than those over the warmer months. Of course, no-one wants to be in an accident, so it is important to take measures to ensure that your car is fit to drive and you know what to do should you start to lose control of your car.
Keeping your car in the best condition to run is very important. Make sure that you have a good level of anti-freeze in the coolant system to make sure that the engine does not suffer from the freezing weather. A cheap bottle of anti-freeze can save a repair bill a hundred times its cost. The tyres are another hugely important factor in how well your car will run in worsening conditions. Make sure that you have at least 3mm of tread left on your tyres; less than this can severely reduce your ability to control your car in icy conditions.
Most people will de-frost their car in a hurry in the morning, but it is important that you do it thoroughly to ensure that you can see clearly. It is a legal requirement to be able to see out your windscreen, front windows and wing mirrors. If they are covered in ice and frost you are breaking the law and putting others at risk. The same goes for your lights, which should be cleared so you can see where you are going and others can see where you are going.
Planning your journey is also important – stick to main roads when possible, allow extra time for journeys and take your time. Even with the best planning, you could still get into an accident or get caught in someone else's. There are several items which you should take with you in your car – especially on longer journeys:

Ice Scraper / De-Icer
Warm Clothes & Blankets For All Passengers
Torch & Batteries
Sturdy Boots
First Aid Kit
Jump Leads
Shovel
Road Map
Sunglasses (for glare from snow)
You will probably have some of these things in your car already, but it is important to be prepared and stay safe this winter!
AYB Law are a leading law firm based in Preston and handle a variety of accident claims each winter due to drivers not taking the correct precautions when driving in poor conditions. If, in the unfortunate event, you're involved in an accident this winter which wasn't your fault, give AYB Law a call on 0800 0443 495 to see if you may be eligible to make a claim.