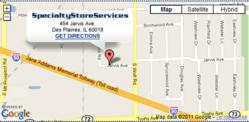 Specialty Store Services is proud to have 20 years of sales experience brought into our showroom to bring it to a whole new sales experience
Des Plaines, Illinois (PRWEB) December 22, 2012
Specialty Store Services showroom is happy to announce the new sales staff- Myla Bradshaw and Edder Umana. Between the two of them they have over 20 years of retail experience and are excited to help retailers in designing and increasing profits. Myla has worked in the retail industry for many years in sales and merchandising and has a degree in Interior Design. Edder has worked in retail sales and has also helped in the opening a Grocery/Restaurant with a family member. At the grocery store he was responsible for merchandising, inventory and the daily duties. Specialty Store Services is excited to have a new sales staff and bringing the Showroom up to a whole new shopping experience.
Many retailers are on a tight budget and the clearance section at the Specialty Store Services showroom is a great way to trim costs on retail supplies and store fixtures. The clearance area has been expanded and redesigned to be more shopper-friendly. Retailers have the opportunity to save big on dinged or scratched displays and fixtures as well as discontinued products. The selection in the clearance section changes often but shoppers can expect to find anything from store fixtures and impulse displays to loss prevention and cash handling products. Also newly incorporated into the clearance section is the monthly pallet sale. The products offered in the pallet sale change every month and shoppers can expect substantial savings
Specialty Store Services strives to make its customers' shopping experiences quick and pleasant. Customers can save time by placing orders online at http://www.specialtystoreservices.com or phoning in their orders ahead of time. By doing so, their orders will be ready and waiting when they arrive. Retailers can also enjoy coffee and fresh-baked cookies while networking with other retailers to feed ideas off one another.
The showroom, located at 454 Jarvis Avenue in Des Plaines, IL, is open from 8:30AM to 4:30PM Monday through Friday. Please visit the website to find product information, purchase products, research business services or find helpful hints and product suggestions.
About Specialty Store Services
Specialty Store Services, a second-generation family owned business, offers everything necessary to operate a thriving retail store, from logistical solutions and retail supplies to custom and stock fixtures. The large inventory of retail supplies and displays available include lighted showcases, shopping bags, pricing and tagging guns, garment racks, mannequins and security systems. Over the last 25 years this service-driven company has cultivated relationships with global partners while developing the expertise and knowledge required to provide competitive prices, outstanding customer service and quality products. Products are available for purchase online, via phone 800-999-0771, fax 888-368-8001, or at the showroom located at 454 Jarvis Avenue, Des Plaines, IL 60018.