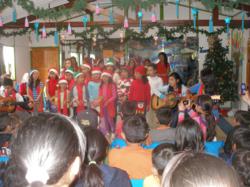 This year, the children of Suba celebrate the Christmas spirit by participating in holiday festivities
Boca Raton, FL (PRWEB) December 25, 2012
According to the 2012 World Giving Index, the United States ranked 5th in global charitable giving trends but one South Florida business owner is pushing through the statistics to change the lives of children in Bogota, Colombia.
South Florida business owner, Abraham Ovadia, and founder of the Florida PIP Law Firm, P.A., is working with Bochika, a Florida 501(c)(3) Charity Organization, to help marginalized and impoverished communities in Colombia. This year's support by Abe Ovadia will go to help the children's foundation Toma Un Niño de la Mano or Take a Child by the Hand, located in the small town of Suba, Bogota, Colombia. When asked by Bochika volunteers, Angela Charry and Nicolas Duque, if he would like to sponsor a program that helps marginalized and impoverished children, Abe Ovadia replied, "Let's do it. What can the Florida PIP Law Firm do to help?"
Take a Child by the Hand has built a community center that functions as a safe zone for children and teenagers under the age of 18, which helps local children escape the day-to-day curses of poverty such as extreme violence, physical abuse, poor education system, and hunger. Suba is a small town once separate from the massive capital city of Bogota, now engulfed by the growth of Bogota's urban sprawl. Today, the town of Suba is home to thousands of internally displaced persons who have lost their livelihood in Colombia's ongoing armed conflict. Take a Child by the Hand has become a refuge for many of these children by providing daily activities such as dance, arts and crafts, music lessons, and reading. The Foundation also holds the only children's library in the town.
The 2012 World Giving Index, which was published earlier this December, shows the United States falling from its 1st place position in 2011 to 5th place. The World Giving Index measures giving by focusing on three giving behaviors: donating money, volunteering time, and helping a stranger. Australia came in 1st place, followed by Ireland, Canada, New Zealand, and the United States of America. To encourage charitable giving within the workplace, the World Giving Index recommends business owners to "foster a culture of workplace giving by actively promoting skilled employee volunteering and by providing easy and effective ways for people to give and support their local communities, and to publish corporate social responsibility reports annually as part of their normal business reporting, and on a consistent and comparable basis."– World Giving Index 2012: A global view of giving trends.
Abe's partnership with Bochika demonstrates the effectiveness of implementing these recommendations to help strengthen declining charitable giving in the region. Bochika partners with South Florida residents and businesses to fulfill its mission to promote organizational development, increase social impact, and enhance the global visibility of local organizations by providing needed training, tools, and technology. Bochika also supports one of Port – au – Prince's largest urban agricultural gardens, Jaden Tap Tap, and community projects in Cartagena, Tulua, and Bogota Colombia. To learn more on how you can wisely support Take a Child by the Hand or other community programs please visit Bochika's website at: http://bochika.org/, or call the organization's office at 786.529.2010.
Florida PIP Law Firm, P.A. serves clients in Jacksonville, Tampa, Orlando, Miami, West Palm Beach, Boca Raton, Fort Lauderdale, and the greater regions of Miami-Dade County, Broward, St. Lucie County, Martin County, Duval County, and Monroe County. For more information please call 888.948.2144 or visit, http://www.wesetthestandards.com/.