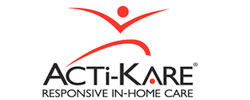 Frisco, TX (PRWEB) December 21, 2012
Acti-Kare Plano, a leading provider of responsive in-home care for seniors, recently offered key tips for families living with Alzheimers or other dementias during the holiday season. The company recommends that families choose safe and useful gifts for the person with Alzheimer's, help other family members set realistic expectations of the caregiver, and involve the person with Alzheimer's in holiday preparation and traditions.
Because some gifts may now be dangerous or unusable for persons with Alzheimer's, Acti-Kare Plano recommends giving gifts that the person with Alzheimer's can easily enjoy, such as comfortable clothing, audiotapes of favorite music, photo albums and identification bracelets. Most significantly, gift certificates for spa services or household cleaning services make great gift ideas for caregivers.
During the holiday season, Acti-Kare Plano also recommends that families adjust expectations by discussing the caregiver's limitations regarding hosting or preparing for holiday events and keeping the caregiver or Alzheimer's patient from getting overwhelmed. Families should also be wiling to adjust the schedule for holiday gathering in order to avoid any triggers that may agitate the loved one with Alzheimer's.
In addition, families can involve the loved one with Alzheimer's in holiday preparations. As the person's abilities allow, invite him or her to help measure ingredients for a dish, wrap packages, set the table, or hand out decorations as they are put up. For families with loves ones in a care facility, Acti-Kare Plano suggests that families join in on some of the planned holiday activities at the facility. Families can even bring holiday food to share, sing holiday songs or read a favorite holiday story aloud.
"We understand that for families living with Alzheimer's, the holidays can be a stressful time," said Yubi Navarro of Acti-Kare Plano. "Family gatherings can still be happy, memorable occasions with a little planning and some reduced expectations for the whole family." For further information about living with Alzheimers or to learn more about quality senior home care services, call Acti-Kare Plano at (469) 269-0143 or visit their website.
About the company:
Acti-Kare is committed to becoming the nation's premier provider of senior and home care services. They are committed to providing outstanding service and to consistently exceeding their customers' expectations. They understand that it's not just spending time with those they're caring for that counts, it's spending quality time in physical and mental activities that help seniors remain productive, contributing members of their families and communities. Acti-Kare is committed to treating every family member with dignity and respect, and they will do their utmost to consistently exceed their clients' expectations. For more information visit their website at http://actikaredfw.com.