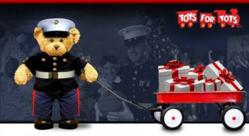 Now is the time to give with an open heart.
New York, New York (PRWEB) December 20, 2012
AllCar Rent-A-Car is once again participating in New York City's largest toy drive, sponsoring a Toys for Tots drop off event on December 20th at the 41st Assembly District Democrats Club in Brooklyn.
"We've been participating in the Toys for Tots drive for the past 12 years," explains Gil Cygler, President of AllCar Rent-a-Car. "Since then, we've helped Toys for Tots collected a total of 38,676 toys for children in the NYC community."
Members of the NYC community are encouraged to come out to the event Friday. Volunteers from AllCar will be on hand to help with the collection of donations; the company will also be providing the organization with complementary van rentals to help with the transportation of the toys.
The event, which will culminate this year's drive, gets underway at 7:30 p.m. Special guests, including Mr. Met of the New York Mets and Sandy Seagull of the Brooklyn Cyclones, will be on hand for festive photo opportunities. County Leader Frank Seddio, District Leader Roberta Sherman, Councilman Lew Fidler, and Assemblyman Alan Maisel will also be assisting AllCar with the collection and distribution of donations.
"It's been a tough year for New Yorker's. Many families in New York City are still reeling from Hurricane Sandy's impact," says Cygler. "Now is the time to give with an open heart."
New Yorkers can learn more about Friday's toy drive by calling Bryan Lee at 917-846-1944. Monetary donations can also be mailed c/o Bryan Lee to 2664 Dorothy Street Bellmore, NY 11710.
For the past six years, Brooklyn has been Toys for Tots' #1 chapter in all of NYC. Councilman Fidler credits AllCar's participation for helping earn this acclaim. "We wouldn't be able to do what we do without the above-and-beyond generosity of all the great folks at AllCar. AllCar is there for us, they're there for the community and they're there for all the families and children of this city."
About AllCar Rent-A-Car
AllCar Rent-A-Car is New York City's premiere rental company. With 12 locations throughout the five boroughs, AllCar is focused on providing the highest quality car rental experience in New York. Book your rental online at http://www.allcarrentacar.com.