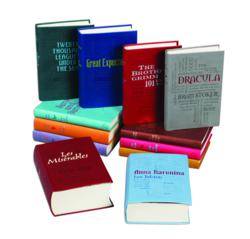 We set out to create a series of popular classics from scratch--elegant editions that would rekindle every book lover's passion for physical books
San Diego, CA (PRWEB) December 20, 2012
Canterbury Classics by Thunder Bay Press is excited to introduce two additions to the Word Cloud Classic collection: Les Miserables and Anna Karenina. With Oscar-worthy cinematic releases of both of these tales hitting theatres in late 2012, Canterbury Classics to give lovers of literature stunning new editions to fall in love with. The Word Cloud Classics collection is a must-have for any book enthusiast, as the attractive colors and intricate covers are as lovely to look at as they are to read.
"We set out to create a series of popular classics from scratch--elegant editions that would rekindle every book lover's passion for physical books," says publisher Peter Norton. "With the release of the Les Miserables and Anna Karenina movies, we knew that people's interest in the original classic book would be piqued and we wanted to be able to offer these tales in a stunning format that will grace reader's shelves long after they are finished reading the books."
Word Cloud Classics are works of literature with a clean, modern aesthetic. Each book has heat-burnished covers and foil stamping and comes in popular color schemes with high quality, matching end papers. Retailing at $14.95 to $16.95 each, these high-quality editions provide a chic, yet inexpensive, introduction to these timeless literary tales.
Les Miserables by Victor Hugo (ISBN: 978-1607108160), and Anna Karenina by Leo Tolstoy (ISBN: 978-1607108153) will both be released in late December 2012, but can preordered today at Amazon.com.
About Thunder Bay Press:
Thunder Bay Press (http://www.thunderbaybooks.com) is an imprint of Baker & Taylor Publishing Group. Thunder Bay offers a collection of quality reference books suitable for gift-giving on the subjects of art, architecture, pets, cooking, travel, culture, hobbies, religion, transportation and nature. Thunder Bay Press is perhaps most known for its best-selling Then and Now series.
Media Contact:
Baker & Taylor Publishing Group/Thunder Bay
Press Beth Avant 858-457-2500, ext. 3602
Beth.avant (at) baker-taylor (dot) com