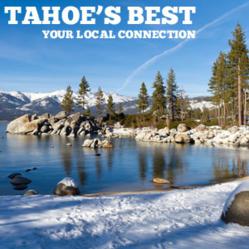 Lake Tahoe, CA (PRWEB) December 21, 2012
Conditions in Tahoe are shaping up beautifully for this weekend and into the Holiday break. With 5-6 ft of fresh fluffy powder expected by Sunday, the skiing and boarding at all the Tahoe ski resorts is expected to be epic. It's a great time to book a last minute trip to this winter wonderland, take in the views and spend a few days skiing or snowboarding in the powdery slopes of Lake Tahoe.
For all last minute travelers, here are TahoesBest.com's picks for the best Tahoe Hotels to stay warm this weekend:
1. 3 Peaks Resort & Beach Club: Known as "Hotel Heaven", 3 Peaks Resort & Beach club is the best hotel in Tahoe any time of year. During the summer it boasts its own private beach but during the winter it is only two blocks from Heavenly Valley Gondola. Comfortable beds and high-end linens help guests have a cozy stay and rest their tired bodies after a long day playing in the snow. For visitors looking for a little something extra, 3 Peaks Resort also offers cabins with a fireplace or Jacuzzi for added romance and pampering. 3 Peaks Resort & Beach club is also pet-friendly for visitors looking to book a last minute trip to Tahoe and can't find a dog sitter.
2. Forest Suites Resort: This luxury south Lake Tahoe hotel gives guests the finer things in life like relaxing spa services, heated pools, a fitness center and a sauna and steam room. After a long day on the hill, visitors can unwind and recharge with these luxury amenities. Warm up with a few minutes in the steam room or book a massage to ease those sore muscles. Located less than 100 yards from the Heavenly lift gondola, there is no better place to stay than Forest Suites Resort this weekend. Don't miss out on the incredible powder expected this weekend. Book the Heavenly EPIC Package from Forest Suites Resort and get two free lift tickets with a 5 night stay this winter in Lake Tahoe.
3. Horizon Casino Resort Lake Tahoe: Just minutes from the slopes and the lake, Horizon Casino Resort Lake Tahoe is in the center of this mountain paradise. A great choice for a last minute ski trip, this Tahoe hotel makes it easy to hit the slopes with deals on lift tickets and onsite entertainment to keep guests toasty warm while enjoying the beauty of Tahoe. The onsite casino is great for adult entertainment and convenient eateries mean the only time guests have to endure the elements is while speeding down the slopes.
4. Tahoe Lakeshore Lodge and Spa: For visitors looking to stay extra toasty this weekend amidst the storm, the Tahoe Lakeshore Lodge and Spa is a popular choice. This Lake Tahoe hotel offers accommodations with fireplaces to keep guests warm and cozy after a long day carving up the slopes. Enjoy a cup of cocoa or a relaxing glass of wine while sitting in front of the warm fireplace at this lakefront hotel in Tahoe. The Lakeshore Lodge also has great offers including Couples Spa and Girlfriends Getaway packages with discounts on spa services and accommodations.
This weekend is going to be some of the best skiing and snowboarding of the year in California. Mountain enthusiasts won't want to miss the action so book a last minute stay at one of the best Lake Tahoe hotels for this weekend and spend the next few days playing in powder.
About TahoesBest.com:
The skiing and snowboarding in Lake Tahoe is arguably the "Best in the West" and TahoesBest.com is the authority in reporting snow conditions, weather updates and all the best upcoming things to do in Lake Tahoe for winter enthusiasts. Use Tahoesbest.com to find information, reveiws and deals on all things Lake Tahoe from ski reports to vacation rentals.