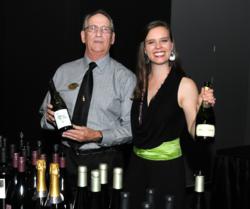 Tampa, FL (PRWEB) December 20, 2012
With a dash of science, a pinch of atmosphere and a heaping helping of food and wine, the Museum of Science & Industry will host its 18th annual Einstein on Food & Wine weekend festival on Feb. 1 – 2. The weekend is ideal for anyone who enjoys wine, food, music and supporting a worthy cause through a silent auction.
The weekend kicks off with the inaugural Annus Mirabilis* dinner on Friday, Feb. 1, at 7 p.m. Tickets are available for those wishing to enjoy an intimate dinner, culinary demonstrations and a customized menu by Fabio Viviani of Bravo's Top Chef in a private home on Bayshore Boulevard. Voted fan favorite for season 5 of Bravo's Top Chef, Viviani is executive chef and owner of Café Firenze, Italian Restaurant and Martini Bar in Moorpark, CA and Firenze Osteria, Italian Restaurant and Bar in Toluca Lake, CA.
The celebration continues with Einstein on Food & Wine on Saturday, Feb. 2. The event begins at 7 p.m., but those with VIP tickets have early access beginning at 6 p.m. and can rub elbows with Viviani in the VIP lounge. ABC Fine Wine & Spirits, the host sponsor, will feature more than 50 vintners with a variety of wines, including reds, whites, champagnes, domestic and imported. Delicious food and desserts from more than 30 different local restaurants will be featured including TC Choy Asian Bistro, The Melting Pot, Centre Club and Hamburger Mary's. In addition to the array of food and wine, a silent auction will be held with proceeds to benefit MOSI's educational programs.
This year MOSI is adding a new and exciting element to Einstein on Food & Wine for its participating restaurants. Restaurants who participate will have their food judged by Fabio Viviani of Bravo's Top Chef and MOSI guests in a quest to find the best food at Einstein on Food & Wine. All voting will be done by secret ballot and all ballots will be tabulated during the evening. Winners will be announced in MOSI's Grand Lobby prior to the closing of our silent auction.
Prize categories are as follows:
-First Place will receive $1000 and a plaque
-Second Place will receive $750 and a plaque
-Third Place will receive $250 and a plaque
-People's Choice will receive a plaque and bragging rights
Einstein on Food & Wine tickets are $60 for members, $70 for nonmembers and $80 when purchased the week of the event. The event begins at 7 p.m. and guests must be 21 years or older to attend. VIP tickets can be purchased for $125, which includes valet service and early access to Einstein on Food & Wine at 6 p.m.
Tickets for the inaugural Annus Mirabilis dinner, which includes an intimate dinner, culinary demonstrations and a customized menu by Viviani, are $200 per person or $350 per couple.
Both evenings benefit the education programs at MOSI. For more information or to purchase tickets, call 813-987-6000 or visit MOSI.org.
*Annus Mirabilis is a Latin phrase meaning "Wonderful Year" and was the title of a collection of articles written by Einstein in 1905 that included his theory of relativity.
###
About MOSI (Museum of Science & Industry)
MOSI is a not-for-profit, community-based institution and educational resource dedicated to advancing public interest, knowledge, and understanding of science, industry, and technology. With a total size of over 400,000 square feet, MOSI is the largest science center in the southeastern United States, and home to the only IMAX® Dome Theatre in the state of Florida. Kids In Charge! The Children's Science Center at MOSI is the largest children's science center in the nation. Disasterville, featuring Bay News 9 WeatherQuest, combines education and 10,000 square feet of interactive exhibits on the science behind natural disasters. MOSI's newest permanent exhibition, The Amazing You, presented by MetLife Foundation and sponsored by Florida Blue, explores the fascinating world of birth through end-of-life. Conquer your fears and experience an adrenaline rush like no other on MOSI's permanent attractions, the Sky Trail® Ropes Course and Zip Line. Also, guests can now Dream it – Make it – Do it in MOSI's technology playground & inventor's studio, Idea Zone. MOSI is the proud winner of the 2009 National Medal for Museums by the Institute of Museum and Library Services, the nation's highest honor for museums. For more information on MOSI, visit http://www.mosi.org.