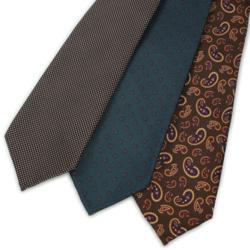 San Francisco, Calif. (PRWEB) December 21, 2012
Available for the first time in North America, hand-made unlined neckties from Naples, Italy are the newest arrival at A Suitable Wardrobe, the classic clothing & accessories site for well dressed men. Soft and light, unlined neckties twist and turn with the breeze in a way that embodies the casualness of Italian style.
"Hand-made unlined neckties have been a secret of the world's best dressed men for decades," said A Suitable Wardrobe's Will Boehlke, "but they have been virtually impossible to find without visiting Naples, Italy. We are pleased to be bringing them to our customers around the world."
More than thirty Neapolitan necktie designs will be available online. Each tie is made entirely by hand: individually marked onto the best Como silk, cut out with a scissors, hand rolled and sewn with needle and thread. No shortcuts are taken and no sewing machines are used.
A Suitable Wardrobe is a San Francisco Bay area-based publisher and online retailer of classic clothing and accessories for well dressed men. The A Suitable Wardrobe website combines a store that offers a variety of world-class clothing, shoes and accessories, much of it made by hand, with an award-winning online publication about classic men's clothing and style.