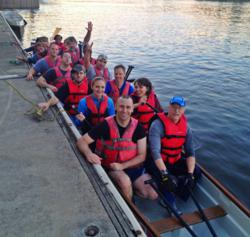 iostudio is committed to investing every penny saved back into benefits and wellness initiatives for our employees
Nashville, TN (PRWEB) December 21, 2012
This week, the Nashville Business Journal honors iostudio as Nashville's Healthiest Employer in the 101–250 employee division. Finalists and winners were recognized at a luncheon ceremony hosted last Thursday. iostudio was selected from a group of four finalists in its size category, and from a total pool of 42 nominees.
The Nashville Business Journal, in partnership with national consulting group Healthiest Employers LLC, determined winners based on criteria such as the effect of the wellness plan on employee engagement and the company's commitment to promoting a healthy workplace.
ioFit, iostudio's corporate wellness plan, supports employees in several ways on their journey to better mind and body health. Employees are invited interact with health care professionals at iostudio's annual wellness fair, and attend "Lunch and Learn" sessions on topics ranging from sleep patterns to nutrition planning. Healthy snack options like fresh fruit are readily available, free of charge, in employee break rooms. A stress reduction room, complete with exercise equipment and a Wii Fit, offers employees a quiet haven to give their brains a rest or get their endorphins going. As further incentive to stay fit, employees also receive discounts to local health clubs, and often organize outdoor activities like hiking trips, softball games and an annual boat race.
Another key component of the judging criteria was the effect a robust corporate wellness program could have on the employer's bottom line. At iostudio, savings accrued through ioFit have a direct impact on the cost of health care for every employee, as they are reinvested into employee benefit options. The true impact of iostudio's corporate wellness plan can be clearly seen through increased coverage, reduced deductibles and lower copays.
"Healthy employees are more productive at work, and there are insurance cost savings associated with a healthier workforce," said Mark Serracino, iostudio's Total Rewards Manager. "As a result of our wellness initiatives, we've seen an 18 percent cost savings in premiums as a company over the past year. iostudio is committed to investing every penny saved back into benefits and wellness initiatives for our employees."
About iostudio
iostudio is a national creative marketing and advertising agency with offices in Nashville, TN, and Washington, DC, with a staff of 230 professionals. The agency provides full-service advertising, film production, customer care and content marketing to a range of clients across a number of industries, with a portfolio that includes notable private industry and not-for-profit clients, as well as the U.S. Navy, Marine Corps, and Army and Air National Guard. For more information visit http://www.iostudio.com. Follow iostudio on Twitter, @iostudio or like iostudio on Facebook, facebook.com/iostudio.