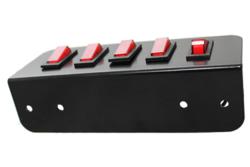 Brooklyn, NY (PRWEB) December 20, 2012
Whacker Technologies, the manufacturer of high quality public safety equipment for professionals in a wide range of industries, today announced the release of its full line of interior vehicle mounted switch panels and control boxes to be used on a wide range of vehicles and with numerous brand name vehicle lighting products.
With a sleek, lightweight aluminum body, the Whacker Technologies control panels are designed to be a universal control option. All of the control panels are designed with the end user in mind and are made to be installed with ease on any standard manufacturer console.
"In the past many of the products manufactured by Whacker Technologies have come standard with a control box, but the new generation of products are designed to be more customizable which is one of the reasons that we decided to release this series of light control options. We believe that emergency lighting products should be packed with numerous features and then to leave it up to the industry professional what features they would like to use. The control panels or control box provides a quick solution with the custom wiring option. We also designed the series to be used with more than just Whacker Technologies products. We believe that users will find these universal control options perfect to control all of their emergency products from one location," said Ariel Cohen, director of marketing at Whacker Technologies, Inc.
The new series of control panels ranges in size starting with two switch and goes up to six switch. Each panel comes with at least one back lit on/off switch and a momentary/reset switch for changing or resetting the flash patterns on a particular lighting unit. Each control unit varies in length depending on the number of switches but comes with a standard height on 2.3 inches and a depth of 1.6" in depth.
The Whacker Technologies switch panels are available starting at $7.99 and the control box starts at 64.99 . All Whacker Technologies products including the switch panels can be purchased online through EmergencyCity.com.
Whacker Technologies, Inc., is headquartered in Brooklyn, NY and is the parent company of Whacker Technologies, Police Lightz, and Emergency City. Whacker Technologies manufactures and sells interior and exterior police lighting, sirens and accessories for vehicles of many industries. For more information please visit http://www.whackerusa.com.