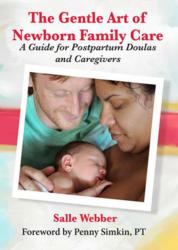 Santa Cruz, CA (PRWEB) December 22, 2012
While the birth of a baby is exciting, labor and delivery does not end there. The postpartum period lasts for several weeks after the birth of a baby. The care of the mother includes nurturing her physical and mental health, including baby blues, postpartum depression, breastfeeding problems, caesarean section assistance, basic physical care and a host of other issues.
One of the most neglected part of pregnancy, labor and delivery, postpartum care does not have to be so difficult if family members and doulas (professional birth or postpartum supporter) are educated with basic tips.
Salle Webbers, The Gentle Art of Family Newborn Care: A Guide for Doulas and Caregivers provides family members and doulas the tools necessary to provide new mothers with postpartum care, address mother's emotional needs, offer guidance on infant nutrition, care and management of breastfeeding.
About the Author: Salle Webber has been a Postpartum Doula for since 1988. She has supported over 200 families and has trained and mentored other women in their journey to become professional doulas.
The Gentle Art of Newborn Family Care: A Guide for Doulas and Caregivers is available at your local Barnes and Noble store, and Amazon.com.
The Gentle Art of Newborn Family Care is published by Praeclarus Press, a small press specializing in women's health. Praeclarus publishes books, e-books and other materials that help people live healthier lives.
ISBN-10: 0985418001
ISBN-13: 978-0985418007