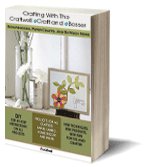 December 20, 2012—
Northbrook, IL (PRWEB) December 22, 2012 -- Crafters and DIY fans alike are always on the hunt for clever and unique home décor projects. In an era when people are doing what they can to be budget savvy, learning simple DIY projects and techniques is a great way to show off a stylish décor scheme without breaking the bank. With the inspiring projects found inside Crafting with the Craftwell eCraft and eBosser: Scrapbooking, Paper Crafts, and So Much More, crafters of all mediums will learn how to use simple techniques to achieve amazing results.
More and more craft companies are making it easier for designers to make quality products in the comfort of their own homes. Craftwell, for example, recently came out with the eBosser, a small machine that allows crafters to cut up to 8 layers of fabric and paper. Together with the eCraft machine by Craftwell, these two products can totally transform the way designers make cards, scrapbooks, paper decorations and much more.
According to a 2010 CHA U.S. A&U Study of the top 10 craft segments, scrapbooking and memory crafts came in second, with 18.4 million households in the US actively participating in paper crafting. Designers are obviously excited about this popular crafting trend and the latest free eBook from Craftwell and FaveCrafts has plenty of great ideas for the designer who's looking to try the next best thing in paper crafting.
This colorful eBook contains step by step instructions on how to make simple and fun projects using the Craftwell eCraft machine and eBosser. Gift ideas include a fun Baby Boy Diaper Cake (pg. 7) and an Anchored Heart Onesie (pg. 8). There are also great card layouts, including the Love You 3D card (pg. 10) and Wishing Well Card (pg. 18). Each project featured in Crafting with the Craftwell eCraft and eBosser includes at least one color photo, step by step instructions, a materials list, and even a link to the Craftwell store where readers can purchase their very own eCraft or eBosser machine.
Download the Crafting with the Craftwell eCraft and eBosser: Scrapbooking, Paper Crafts, and So Much More eBook for FREE at http://www.favecrafts.com/Papercrafts/Crafting-With-The-Craftwell-eCraft-and-eBosser-Scrapbooking-Paper-Crafts-and-So-Much-More-Free-eBook. Website visitors can also find the eBook under the "Paper Crafts" category on the FaveCrafts homepage.
###
Contact:
Melissa Conner, Editor
FaveCrafts.com
Prime Publishing LLC
mconner@primecp.com
About FaveCrafts.com:
FaveCrafts.com is an exciting resource for all things craft - from expert tips to project ideas for every style and skill level. We also publish Quick & Crafty, a free e-mail newsletter, publish crafting eBooks, and create crafting related product promotions, contests and giveaways.
About Prime Publishing LLC:
Prime Publishing LLC was established in 1995 as a traditional niche book publishing company. Today, they are an Internet Media Company that operates web site communities and e-mail newsletters in niche areas such as crafting and cooking. A full list of web properties, free newsletters and free eBooks can be found at http://www.primenewsletters.com.