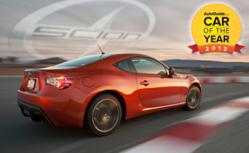 Toronto, Canada (PRWEB) December 21, 2012
"A sports car should be agile, well-balanced, responsive and intuitive, responding to driver inputs," says AutoGuide.com Editor in Chief Colum Wood. "The FR-S takes these qualities to an impressive level and flatters the driver, making almost anyone look and feel like a professional behind the wheel."
Not only that, but the FR-S does so at a very attractive price. "For $24,200 the FR-S doesn't just live up to the hype, it exceeds it," says Wood.
"We are honored that AutoGuide.com selected the FR-S as its first Car of the Year recipient and recognized the unmatched driving experience," said Scion Vice President Doug Murtha. "The FR-S showcases the fun we want Scion drivers to have each and every time they get behind the wheel."
Powered by a 2.0-liter Boxer 4-cylinder engine making 200 hp, the FR-S delivers performance and fun though light weight, balance and a low center of gravity, allowing for driving dynamics unmatched in its class.
About AutoGuide.com
AutoGuide.com, a Verticalscope property, is a new car shopping consumer resource site and the flagship of the AutoGuide forum network comprising over 360 vehicle and manufacturer enthusiast sites. According to independent audience measurement agency, comScore Media Metrix, the AutoGuide.com network ranks third in monthly audience size among all automotive resource websites.