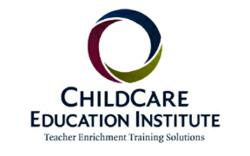 CCEI is a leader in online child care training and we're helping to improve educator performance in child care programs across the industry.
Duluth, GA (PRWEB) December 21, 2012
ChildCare Education Institute (CCEI), an accredited, distance learning institution, announces that individual, annual subscriptions with unlimited access to the online child care training course catalog are now only $79 through December 31, 2012!
Child care professionals in a variety of roles and states utilize CCEI's online training to fulfill their continuing education and professional development requirements annually. Students enjoy CCEI because the courses are self-paced, available in English and Spanish, and conveniently accessible at any time. Coursework is user-friendly, engaging, and competency-based to facilitate retention. CCEI's 100+ child care training courses cover a range of applicable topics including Diversity, Nutrition, Classroom Management, Family and Parenting, various forms of development, and more. Each course hour grants 0.1 IACET CEU, and CEU credit is included in the cost of the program. Once courses have been completed successfully, certificates of completion are immediately available for printing and documentation.
This limited time offer is available to anyone without a current annual subscription until 12:00 am on December 31, 2012. Existing account holders may purchase a subscription when they log in to their account, select Professional Development along the left navigation bar, enter the promo code TRAIN2012, and follow the onscreen prompts to complete their purchase. New users will first need to create a training account and verify their account through the email sent to them by CCEI before purchasing the discounted subscription with the instructions above.
"Professional development requirements continue to increase for many states and recognition programs, and we're proud to offer over 100 online courses at only $79 for an entire year of training," said Maria C. Taylor, President and CEO of CCEI. "CCEI is a leader in online child care training and we're helping to improve educator performance in child care programs across the industry."
About CCEI
ChildCare Education Institute provides affordable, online continuing education programs for professionals in a range of child care settings, including family child care, preschool, prekindergarten, nanny care, and more. Over 100 English and Spanish online child care training courses are available to meet licensing, recognition program, and Head Start requirements. Additionally, CCEI offers online certificate programs, such as the Online Child Development Associate (CDA), Online Director Credentials, Early Childhood Credential, and more. CCEI is accredited by the Accrediting Commission of the Distance Education and Training Council (DETC), approved by the International Association for Continuing Education and Training to award IACET Continuing Education Units (CEUs), and authorized under the Nonpublic Postsecondary Educational Institutions Act of 1990, license number 837.
For more information, visit http://www.cceionline.edu or call 1.800.499.9907.