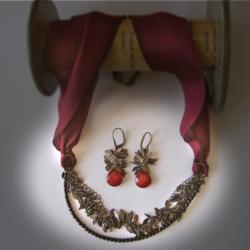 Somerville, MA (PRWEB) December 22, 2012
Blue Cloud Gallery, a unique art gallery that showcases handcrafted items made by local artists, recently announced that it will be featuring the romance-inspired jewelry of artist Lisa Trachtman during the month of December. And as a holiday gift in December, Blue Cloud Gallery is treating its guests to a special 20% off any two pieces of Lisa's jewelry.
Lisa Trachtman has been designing jewelry using wire, semiprecious stones, fiber, and recycled vintage materials for more than ten years. Lisa has taught jewelry making as well as sold her work in New England, California, England and Canada. She recently opened Abeille, a craft studio and boutique in Brookline Village.
"I've been designing since I was a child," said Ms. Trachtman. "My father and I would spend time in his shed (now a modern studio) creating everything from glitter ornaments to walk-in doll houses. I started creating jewelry in earnest about 10 years ago. Romance, nature and old world charm inspire my work."
Lisa silkscreens retro images such as Marilyn Monroe, the Eiffel Tower, Blue Fairy and many others onto her lockets. She also combines coin pearls with metallic leaves as studs and enamels discs and combines them with brass birds or dragonflies. In some of her designs, Trachtman adds crystals and tiny seed pearls on necklaces, and stamps inspiring words on key and dog tag pendants.
About the company:
Blue Cloud Gallery, located in the heart of Ball Square, Somerville, invites the public to explore the many interesting handcrafted gifts created by local artisans. This unique store, owned and operated by fine art photographer Betsy Lenora, supports local artists and helps the community discover fine artwork. As a premier provider of art for sale in the Boston area, Betsy takes pride in the local artists and their art she represents. Come and be inspired by the ever-expanding array of fun and functional items designed, created and produced to delight every visitor. For more information visit her website at http://www.bluecloudgallery.com.