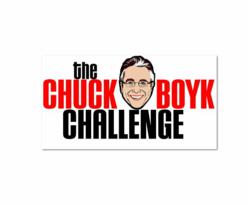 Toledo, Oh (PRWEB) December 20, 2012
The Chuck Boyk Challenge is an ongoing charity event aimed to highlight local charities. It works by asking citizens to vote for their personal favorite organization. The top 3 charities with the most votes will win cash prizes totaling $5,000. Attorney Charles Boyk had initially announced the first three charities participating, he has now announced charities 4, 5, and 6. There are a total of 15 charities participating. Here are the next charities participating:
4. The Josh Project
The Josh Project is a 501(c)3 charitable organization under the IRS tax code and has been serving the Toledo area for more than five years. The organization prides itself on providing affordable swimming lessons and water safety training to children and their families. They are local Make Splash Partners with USA Swimming and the Greater Toledo Aquatic Club, and a recipient of the National Water Safety Congress & Letter of Commendation.
5. The Daughter Project
They provide holistic healing services in an extremely safe, home-like environment to girls/women who have been freed from sex traffickers at not cost to them or their families. The services will include; abuse & addiction counseling, family/friend restoration, health & nutrition education, medical/dental/vision care, legal counsel and spiritual mentorship. This help will be provided by caring & competent professionals and volunteers.
6. The Old Newsboys
Founded in1928, the Old Newsboys Goodfellow Association has been a fabric of the Toledo community. The primary goal of the organization is to ensure every child has a coat and pair of shoes to wear to school and that the goal is met with minimal "red-tape". The organization works hand-in-hand with representatives from the schools, police and fire departments.
For a full list of the charities involved, visit http://www.thechuckboykchallenge.com