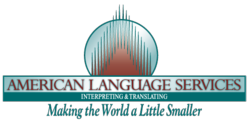 ALS has been a leader in the language services field, providing top-quality document translation and localization services, real-time interpretation services in more than 240 languages.
Los Angeles, CA (PRWEB) December 31, 2012
ALS's newest offices are opening in some of America's most vibrant and exciting cities, where the need for certified language services is at an all-time high. The new offices complement ALS's established sites, including ALS Corporate Headquarters and main operations hub in Los Angeles, CA. Other California offices are in Irvine, San Diego and San Francisco, in addition to the branch offices in Washington, D.C., New York, Miami, Chicago and Las Vegas.
As a preeminent language services provider for more than a quarter of a century, ALS has worked with some of the largest, most successful corporations in the world, and includes among its clients many federal government agencies and organizations, top colleges and universities as well as the world's largest and best known non- profit entities.
Providing a Full Suite of Language and Support Services
In its more than 25 year history, ALS has been a leader in the language services field, providing top-quality document translation and localization services and real-time interpretation services in more than 240 languages. ALS also provides transcription services, desktop publishing, graphic design and media services. ALS has literally translated millions of words and provided thousand of hours of interpretation services, including simultaneous interpreting and consecutive interpreting services as well as American Sign Language interpreting and CART interpretation for the deaf and hard of hearing.
ALS Audio, Video Media Services Seeing Huge Demand
American Language Services is fully engaged in the digital media age, producing voiceovers for short films, cable programming, documentaries and corporate communication. Demand for media production has skyrocketed, and to meet that demand ALS has established its own production studio located in West Los Angeles. As the economy moves toward recovery, more businesses are finding it advantageous to adapt their electronic media to international markets where a wide variety of languages are spoken. We record voiceover soundtracks for video and film and provide subtitling and dubbing services, as well. Among the projects we've worked on recently is a short documentary with voiceover by Meryl Streep.
In addition to our highly successful translation and interpretation services, ALS also provides expert American Sign Language services for the deaf and hard of hearing. We also rent and sell interpreting equipment for conferences, classrooms and other settings where language interpretation is performed.
A Full Suite of Services for the Burgeoning Conference Market
As the economy improves, people are traveling more frequently, not only for leisure activities but also for business. Business travel continues to grown, and with it attendance at business oriented conferences continues to escalate. For many years business people have recognized that there is no substitute for in-person meetings among colleagues as well as with clients and potential customers. Despite the rapid changes we have encountered in technologies that allow us to communicate freely with others, from email to video conferencing, in-person contact is still best. Conferences and meetings are an excellent way to bring people together to help generate a renewed sense of vitality in the workforce and to develop business prospects that would otherwise remain allusive.
Demand for ALS's conference interpreting services is expanding with the economy and is showing unprecedented growth. Business conferences in major venues, including the large destination hotels of Las Vegas and other major business hubs has been growing at a staggering pace, and ALS has been the go-to firm providing expert language interpretation services. With a roster of highly skilled interpreters, many of whom specialize in highly technical subject matter, it is no wonder that so many conference producers call on ALS first when major corporations and governmental organizations need to communicate with an international audience.
ALS linguists provide expert interpretation services in more than 240 languages and facilitate communication among business people in a wide variety of business, legal and technological disciplines.
Company Information
Founded in 1985 by Dina Spevack, United States based American Language Services (ALS) evolved from an intimate language school into the leading interpreting and translating agency it is today. ALS provides a full range of international multi-language communication services and offers its unique services worldwide. Our language professionals are available 24 hours a day, seven days a week.