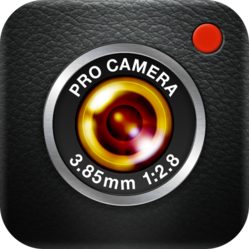 ProCamera 4.0 for the 4 years old ProCamera!
San Francisco, CA (PRWEB) December 21, 2012
Cocologics released ProCamera 4.0 and dropped ProCamera's price to $0.99 for the holidays.
ProCamera is a 5-in-1 app for photo, video, photo editing, social sharing, and code scanning. ProCamera is specially designed to get the best image quality out of the iPhone camera and provide the most useful tools for iPhoneographers. ProCamera has been setting the standard for professional camera replacement apps since the earliest days of the App Store with its high-end features and intuitive, easy to use design.
ProCamera has just released a major new update (version 4.0 for the 4 year-old ProCamera) with the following features:
1. Photo:
+ Capture formats (16:9, 4:3, 3:2, 1:1) for photos.
+ New ProCamera Lightbox to save, share, export or delete photos within the app.
+ New Library and Album enables: full support for photo stream and any updates in real-time; long press to copy to clipboard; super-zoom at full resolution; both landscape and portrait support; and multi-select plus multi-share support.
+ Fine-tuned exposure and focus control: Now you can set focus and exposure with two fingers at the same time (in simple and expert modes).
2. Video:
+ VideoSnapshots: Take photos WHILE recording a video or in video mode.
+ Video upload to DropBox.
+ Video metadata viewer.
3. Photo editing:
+ New Pro Lab editing tools including:

Tone Curves tool with RGB and single color channel correction
Live histogram for accurate editing
New and improved adjustment sliders including Brightness, Contrast, Gamma, Saturation, Color temperature, Shadow and Highlight correction, Red, Green, and Blue
+ Improved and new effects in Pro FX.
4. Sharing:
+ Instagram sharing (with unique SquarePrepare).
+ Multi-Multi sharing (share multiple pictures to multiple networks with a few taps).
5. Usability, Stability and Performance:
+ QuickFlick: flick right for Albums, flick left for Settings.
+ Simplified settings for quick (-flick) access to the most important settings.
+ New code architecture brings 100% stability and a blazing fast performance and startup time.
The ProCamera team is thrilled to provide users with the tools they will need to take great photos and videos, all in time to capture and share memories of this holiday season. This huge update is free to our existing 1 million users, and the app is only $0.99 (regular price of $2.99) for a short time for new users.
Among the many new features, photo editing in ProCamera has been taken to the next level. It's also easy and fun to become a photo editing pro. Playing around with the tone curves and other controls while watching the live histogram change is entertaining, educational, and empowering – all at the same time.
National Geographic's intelligent travel blog recommended ProCamera as one of eight must-have apps for travel. CNN featured ProCamera as one of the apps to help you become a better smartphone photographer; and New York Times journalist David Pogue once stated, "The high-end crowd swears by it". Apple has recommended ProCamera in Essentials "CAMERA & PHOTOGRAPHY" for years.
ProCamera HD (for iPad) is also updated and having a price drop from $4.99 to $1.99: http://itunes.apple.com/us/app/procamera-hd/id549558641?mt=8.
For more information and media requests, please contact:
Jens Daemgen
1.415.704.0207
ll(at)daemgen(dot)net
Blog: http://blog.procamera-app.com/
Instagram: http://web.stagram.com/n/procamera_app/
About the company:
Cocologics is the technology leader in mobile photography software on iOS and one of the leading producers of mobile eLearning systems.
Committed to sustainability, Cocologics develops cutting-edge software solutions, which meet the highest demands in quality, aesthetics and simplicity.