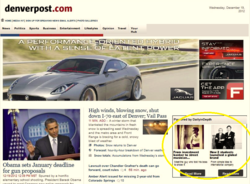 Even Apple co-founder Steve Wozniak is impressed with it, saying, "It's a masterpiece of combining materials in ways I've never before seen. Very creative and unique."
New York, NY (PRWEB) December 21, 2012
As we move through this digital age, technological innovation is becoming more and more of an art form. It is collaboration between creative minds, though, that allows for the creation of something neither party could have conceptualized alone, according to "A guide to finding inspiration," a special digital section created by Conversionplanet in collaboration with Mutewatch.
The special microsite is being promoted via headlines and images on some of the nation's leading news sites. The editorial discusses the many ways that one can get inspired, collaborating with someone else being chief among them. Information is drawn from a myriad of notable sources, including the co-founders of Mutewatch, experts on time management and other creative thinkers.
Mutewatch, the world's first touchscreen watch, is already an innovative product. Even Apple co-founder Steve Wozniak is impressed with it, saying, "It's a masterpiece of combining materials in ways I've never before seen. Very creative and unique."
But when deciding to create a special edition watch, the Mutewatch team decided to collaborate with someone to make something truly special edition. They chose to work with Jesper Nyrén, a creative, talented and unique Swedish artist known for his experimentation with geometry and color. The result of their collaboration is Svart, a jet black watch with gold details that are engraved with Nyrén's geometric patterns―a coming together of the styles of the collaborators.
To find out more about the partnership or to read the full section, click here: A guide to finding inspiration.