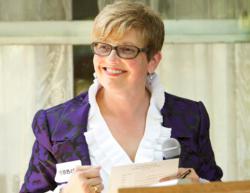 San Francisco, CA (PRWEB) December 21, 2012
The Board of Directors and staff of Goodwill San Francisco, Marin and San Mateo Counties, will host a community farewell celebration this afternoon with Mayor Willie L. Brown Jr. and other community leaders for CEO Deborah Alvarez-Rodriguez. "A Celebration of a Legacy and Fond Farewell to CEO Deborah Alvarez-Rodriguez" will be held today, Thursday, Dec. 20, 2012, 3-6:00 p.m. at the nonprofit's downtown San Francisco SOMA "As Is Store," on 86 11th Street, around the corner from Goodwill's main 1500 Mission Street facility.
It was announced on Nov. 29 that Alvarez-Rodriguez would leave her position as CEO as of Dec. 31, 2012. Mayor Brown, while launching the special online fundraising project to auction off some of his suits, will pay tribute to Alvarez Rodriguez, who served three years as the head of San Francisco's Department of Youth, Children and Families.
"It's an honor to celebrate Deborah and her staff's accomplishments at Goodwill. The very fact that during these tough economic times, she was able to grow the organization by eighty percent from $22 million to $42 million, is a strong testament to her leadership," said Mayor Brown. "More people have jobs, the tax base in San Francisco, Marin and San Mateo has been strengthened, and millions of pounds of repurposed products have been diverted from landfill. We have good reason to celebrate," added Brown.
"We welcome Mayor Brown and all the community leaders and organizations that are joining us," said Gary Grellman, Interim CEO of SF Goodwill. "It's a tribute to Deborah's great tenure and indicative of the ongoing support for Goodwill that is building on her legacy."
Alvarez-Rodriguez, named "The Most Admired Nonprofit CEO" by San Francisco Business Times, mounted numerous accomplishments at Goodwill since 2004 that include:

Goodwill revenues grew by 80 percent moving an earnings deficit to profitability with budget growth from $22 million to $42 million annually.
Goodwill has received one of the highest rankings from Charity Navigator - the largest independent charity evaluator.
Goodwill provided over 25,000 people education, training, support, case management, career advising and coaching.
Goodwill hires people from its training classes. Nearly 50 percent of Goodwill's over 700 employees are former Goodwill service participants who successfully transitioned from public support into becoming sustainable taxpayers.
Goodwill now serves 7,000 participants annually through its education and job training services
Goodwill forged powerful strategic partnerships with local government and businesses, including Microsoft, Levi's, BBDO West, NASA, Five Keys Charter School and Prophet.
Goodwill diverted more than 150 million pounds of donated goods from landfill through its stores, recycling and repurposing businesses that include online shopping.
Goodwill received the Governor's Environmental and Economic Leadership Award.
"It's been an honor leading an organization that has been 'green' since its inception nearly 100 years ago," said Alvarez-Rodriguez. Goodwill values people and the earth by repurposing what society would ordinarily discard. I thank Mayor Brown and our community leaders and partners for acknowledging my work. Furthermore, I am thankful that they will continue to support the organization that fights poverty and changes lives for the better as Goodwill sees the good and grows it. "
Community partners, donors, participants, city officials and the public are invited to attend a community celebration for Alvarez-Rodriguez that begins at 3 p.m. with a 3:30 p.m. ceremony with Brown, Goodwill board members and activist and Goodwill Poet Laureate Iyabo Williams.
The public can begin online bidding for the "Willie L. Brown Jr. Collection" today-through Dec. 31st at sfgoodwill.org. The auction of Brown's suits is a prelude to Goodwill's Donate A-Thon, Monday, De. 31st from 7 a.m. to 5 p.m.
The day after Christmas commercials produced by San Francisco State University students promoting The Donate-A-Thon and the Willie L. Brown Collection will begin airing on radio and television. Dec. 31 is Goodwill's busiest day of the year as donors take advantage of the last opportunity for a tax break.
Those not attending the celebration can still make a tax-deductible contribution to Goodwill by visiting sfgoodwill.org.
###
About Goodwill Industries of San Francisco, San Mateo and Marin Counties, Inc.
Goodwill Industries of San Francisco, San Mateo and Marin Counties, Inc. is a driving force behind positive change. Goodwill is where second chances are found and resilience is rewarded. More than 7,087 people partnered with Goodwill in 2011 to achieve transformative personal growth through innovative employment, education and support programs and hands-on guidance. By teaching real world skills and opening a few doors, Goodwill provides the tools people need to chart their own course from poverty to the perpetuating benefits of professional and personal success.
Statistics only tell part of the story, but our impact is clear. In 2011 Goodwill employed 882 people in our nonprofit social enterprises and placed another 529 people in local jobs outside of Goodwill. The economic impact generated by these jobs infused more that $17 million into the California economy. The taxes generated by Goodwill employees alone provided over $2 million in needed public revenue.