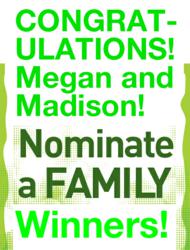 I am continuously amazed with our community and how much love and support is out there for folks.
Tualatin, Oregon (PRWEB) December 21, 2012
Parklane Mattresses' Nominate a family contest drew in entires from all over Oregon. With promotional ads, a website hosted on KINK.fm, and social media support, the contest had 58 entries.
It was a difficult decision that was ultimately made by Parklane's owners Nels and Debbie Lewis. The contest criteria was focused on a family's commitment to their community despite any personal setbacks they've experienced or are experiencing. There were many inspiring stories. The one that caught the attention of Parklane was submitted by Wendy, a friend and co-worker of our contest winner, Megan.
"Megan is the director at a shelter for homeless families in Salem. She and her daughter have survived through her daughter's kidney's problems and multiple stays at OHSU, homelessness, and drug addition recovery. She now holds an important role in the community and at the shelter as a leader and an inspiring role model. Megan & Madison are having a home built by Habitat for Humanity of Salem and this bed and bedding would be so fabulous for their new home!!"
—Wendy
Megan was contacted by Parklane on Wednesday, December 19th and could not have been more surprised, excited, and genuinely happy. Both Megan and her daughter will soon receive their prize package worth $3,000.
"Thank you so much to everyone involved in this!! I still am truly speechless! I am continuously amazed with our community and how much love and support is out there for folks. To be the recipient of such an amazing gift is so beautiful to me! Thank you, thank you, thank you!"
—Megan
It's the personal commitment to helping others that make our community stronger and happier for all. Congratulations to Megan and a sincere thanks to all you do.
Parklane Mattresses offers mattress shopping made easy, from their eight retail locations to their recycling program and their knowledgeable sales associates. Every day is a great day to shop for a new mattress at Parklane Mattresses. Their direct to consumer business model ensures that they are able to keep prices fair 365 days a year.